Steel Jewelry Design for Laser Cutting
This virtual course is a direct follow up to Steel Jewelry with Wire and Sheet and will cover the design process ins and outs for creating shapes that can be laser cut! Learning to cater designs for the laser cutter can save a lot of time piercing, but also allows you to easily play with multiples for creating cohesive production lines and enables longer chains to be made more quickly.
In session one, the instructor will go over the laser cutting process as a whole, the many design options at your disposal, as well as any limitations to look out for when designing your shapes.
In session two, students will review, tweak, and finalize designs with instructor feedback. Class two will also cover the process for transcribing your drawings into digital files that can be sent to the laser cutter. Although this process will be reviewed thoroughly, for the sake of time and advancement, the instructor will transcribe each student's file from drawing to working laser cutting file for them in addition to teaching them how to easily send a finished file to the laser cutter. This session will also cover some finishing techniques and production planning methods. 
After the second session ends, the instructor will transcribe student drawings and will email those files to students. Students will then send / submit their files to the laser cutter!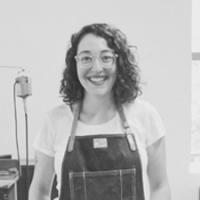 Maia graduated from Tufts University in 2008 with a degree in Biology and Community Health. She received training in jewelry and metals from various craft schools, including Arrowmont School of Arts and Crafts, Pocosin Arts, Penland School of Crafts and Haystack Mountain School of Crafts and her Masters of Fine Art from SUNY New Paltz. She has participated in artist residencies at Arrowmont and Fallingwater and has taught around the country including Penland, Arrowmont, Pocosin, and Touchstone. She currently works out of her studio in the Brewhouse Association on the south side of Pittsburgh.
Maia's work is drawn from the need to create volume out of flatness. By using almost exclusively steel sheet, she aims to manipulate the material to have a dimension it did not previously have. Her forms are inspired by botanical elements, abstracted and simplified to their most basic shape.
There is a $20 kit fee for this course which covers a digitally transcribed file of student's drawings, that will be used for laser cutting. This process will be reviewed in class, but a special software is needed, therefore the instructor will complete the process for students using their designs. Finished files will be emailed to students to upload onto the laser cutters website for cutting.
The following supplies will be used for course demonstrations and objectives. A suggested item and/or vendor has been provided below for reference. Click the vendor name (in red) to be redirected to a page where you can find the item. The quantities needed for each item are listed first. If ordering, please be aware that some items may come in larger quantities than needed for this class. We recommend not opening an item's packaging until the day of the workshop. Student participation during or in-between class sessions is strongly encouraged but not required - observers are welcome.
Metal/raw materials (can order directly from Maia if needed):
steel wire and sheet

ear posts and nuts - for earring making

tubing and pin wire - if you want to make brooch pins
Torch setup:
1 x fireproof area - steel sheet, tiles, etc. (Amazon or Home Depot)

1 x Solderite™ pad or fire brick(s) (Rio Grande)

1 x torch - presto, Silversmith, etc. (Rio Grande)

1 x #0 or #1 torch tip - if getting Silversmith (Rio Grande)

1 x soldering tweezers (Rio Grande)

1 x soldering pick (Rio Grande)

1 x cross lock tweezers (Rio Grande)

1 x paste flux (Rio Grande)

1 x silver solder - hard (Rio Grande)

1 x copper tongs - for pickle (Rio Grande)

1 x pickle - for non-ferrous metals (Rio Grande)

1 x crock pot or tempered glass container - for pickle (Amazon)

1 x tempered glass container or sink - for quenching and rinsing

1 x small brush - for flux

fan and open window - for ventilation
Hand tools:
Other/Miscellaneous items: 
paper/notebook

pens/pencils/markers

glass jar

olive oil

rags

safety glasses

Sharpie marker

rubber cement

circle center finder

templates - any type/shape you prefer