Steel Jewelry with Wire and Sheet
In this demo focused virtual class students will explore the use of steel as an affordable, lightweight alternative material that can be used for a variety of dynamic jewelry formats in wire and sheet metal. Learn how to manipulate and form, experiment with, and apply different soldering methods to steel using a multitude of wire thicknesses ranging numerous gauges and mild steel sheet. The instructor will cover how to personalize your jewelry with handy, non-toxic finishing techniques and how to add accents that highlight each piece. Image transfers onto the surface of sheet metal will also be covered as a finishing method.
A torch setup will be needed for this course.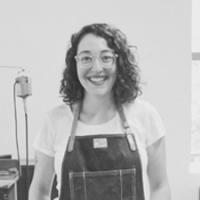 Maia graduated from Tufts University in 2008 with a degree in Biology and Community Health. She received training in jewelry and metals from various craft schools, including Arrowmont School of Arts and Crafts, Pocosin Arts, Penland School of Crafts and Haystack Mountain School of Crafts and her Masters of Fine Art from SUNY New Paltz. She has participated in artist residencies at Arrowmont and Fallingwater and has taught around the country including Penland, Arrowmont, Pocosin, and Touchstone. She currently works out of her studio in the Brewhouse Association on the south side of Pittsburgh.
Maia's work is drawn from the need to create volume out of flatness. By using almost exclusively steel sheet, she aims to manipulate the material to have a dimension it did not previously have. Her forms are inspired by botanical elements, abstracted and simplified to their most basic shape.
A $55 supply kit (cut to spec and sorted) is available directly from the instructor by clicking here. 
Unless you already own most of the items on the list, the kit is highly recommended, as you cannot order the prepped items reflected below through other vendors. Kit includes the following items:
steel wire .035in diameter - 5ft

steel wire .041in diameter - 5ft 

steel wire .048in diameter - 5ft

steel wire .063in diameter - 5ft

steel wire .080in diameter - 1ft 

sterling 3/8" ear posts

sterling 7mm ear nuts

sanding discs 320 grit

grinding wheel

3M micro wheel

separating disc

screw mandrel

snap mandrel

cup bur 1.4mm

cup bur 3.5mm

cup bur 1.7mm

pin wire

3"x6" sheet steel

silver tubing
The following supplies will be used for course demonstrations and objectives. A suggested item and/or vendor has been provided below for reference. Click the vendor name to be redirected to a page where you can view the item. The quantities needed for each item are listed first. If ordering, please be aware that some items may come in larger quantities than needed for this class. We recommend not opening an item's packaging until the day of the workshop. Student participation during or in-between class sessions is not required - observers are welcome.
Torch setup:
1 x fireproof torch area - steel baking sheet will work (Amazon)

1 x Solderite™ pad or fire brick(s) (Rio Grande)

1 x compressed charcoal block (Rio Grande)

1 x torch system (Rio Grande or Rio Grande work)

1 x #0 or #1 torch tip - if getting Silversmith (Rio Grande)

1 x soldering tweezers (Rio Grande)

1 x soldering pick (Rio Grande)

1 x paste flux (Rio Grande)

hard solder

fan and open window - for ventilation

cross lock tweezers

glass jar

olive oil

rags

1 x copper tongs - for pickle (Rio Grande)

pickle (Rio Grande)

crock pot or tempered glass container with lid - for pickle (Amazon)

tempered glass container or sink - for quenching and rinsing

small brush - for flux

safety glasses
Hand tools:
hammers - to texture steel

pliers - bent chain nose, needle nose, and flat nose (plus any other)

hand drill (Rio Grande)

flex shaft style hand piece

2/0 saw blades

sharpie markers

6in steel ruler

dividers 

calipers

8in mill bastard file (Home Depot)

needle files

scribe

center punch

heavy duty wire cutters (Home Depot)

transfer punch set (Harbor Freight) 

saw frame

bench pin (Rio Grande)

high speed drill bits - size #67, #60, #55 recommended 

vise - a bigger and bolted down one works best

rubber cement

templates and silhouette shapes - for cutting out design

flat bottomed objects - for prong setting