In 1998, metalsmiths Karen Christians and Jeff Bowie designed a place where education and community would be united under one roof. This concept is still the driving force behind our mission; to be a forward-thinking organization dedicated to supporting jewelry and metal arts through educational programming that fosters artistic and technical development while encouraging community growth and arts appreciation.
Image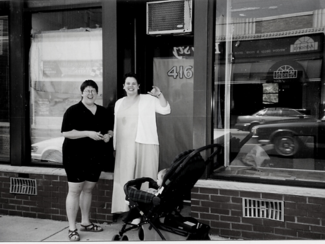 Where It All Began
Metalwerx started in Woburn, MA in a small store front with a studio for classes and a jewelry retail area. Within a year, high demand prompted Metalwerx to move to a larger space nearby where nine members could rent workspace. Karen and Jeff invited friends to join the newly renovated studio, each with a personal jeweler's bench and access to shared equipment. The Studiomate community was born.
Continuing to grow, Metalwerx moved to its current location in Waltham, MA in 2002 and then became a 501(c)3 nonprofit organization in 2006. This opened the door for more opportunities to serve the public through grants and scholarships.
Image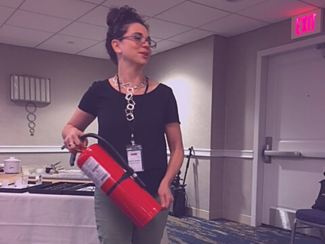 Steady Growth
In 2009, Karen "passed the torch" to Lindsay Minihan, who served as Executive Director until 2022. Along with Karen and Jeff, she shared a strong passion for working with metals and a dedication to community development. She expanded the curriculum to include over 250 annual courses, grew the Studiomate community to 29 members, and introduced online classes, offsite programs, and outreach partnerships and scholarships to better serve our region and the metals community at large. The staff and board have developed in this time too, with over a century of combined experience.
Refining Our Vision
In 2018, Metalwerx conducted a program analysis to clarify its vision for the future and establish goals through 2022. To complete a strategic plan, meetings with students, teachers, vendors, Waltham's cultural leadership, and board members were held to understand what would be beneficial for the community. The mission statement was thus refined:
Metalwerx promotes the art of jewelry and metals through exceptional classes, workshops, studio space, outreach programming and events for professional and personal enrichment within a supportive community of artists and learners.
Image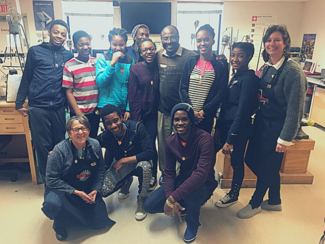 Outreach
Scholarship and volunteer opportunities are integral to Metalwerx's programming. Since 2010, through the generosity of individual supporters and local businesses, we have offered more than $20,000 worth of financial aid.
Through collaborations with local organizations and schools, Metalwerx teaches offsite workshops to students who might not have had awareness of, physical access to, or financial means to participate in its onsite courses.
The Covid-19 Pandemic
The pandemic showed us that we must always reflect, adapt, and grow, while staying true to our ourselves and to our mission.
In 2020, Metalwerx canceled over 50 courses and faced an uncertain future. Without the ability to offer regular programs, we found new ways to effectively serve students, educators, and professionals. Our team quickly developed and launched online education programs that could keep the jewelry and metals community engaged and employed.
Whether online or carefully masked and distanced, community connections are the driving force that have kept us going during this unprecedented time. We've inspired and supported each other through the introduction of virtual classes, online events, webinars, studio tours, artist interviews, as well as monthly zoom Wear and Share gatherings.
All of us at Metalwerx are deeply grateful for the support and participation of our amazing community of artists, students, instructors, patrons, donors, art lovers, volunteers, studiomates, members of the board, and members-at-large.
Metalwerx continues to move forward with new information, experiences, and programming. Going virtual provides opportunities to reach more students and support the livelihood of our talented educators.
Thank You!
Image