Snip, Solder, Repeat: Eye Catching Links and Chains!
In this two-day onsite workshop, students will learn a fun and fast way to make unique shaped links by soldering and forming them over shaped bezel mandrels. This workshop will help students fine tune their small-scale soldering techniques and will also show some quick clean-ups tricks by using the flex shaft. Each student will come away with a handmade link necklace or pendant. For ambitious students who may finish early, there will be the opportunity to make additional pieces of jewelry!
This course is part of the Metalwerx Course Scholarship program and a limited number of scholarships are available. Apply for a scholarship here: Metalwerx Course Scholarships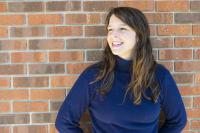 Liz Clark received her BFA in Crafts/Material Studies from Virginia Commonwealth University. She lives in Providence, RI and maintains a metal studio where she creates art and jewelry part time. Liz exhibits her work through various galleries across the country. She also works as a photo jewelry stylist.
There is a $50 materials fee for this workshop that is payable upon registration. The materials kit includes various gauges of sterling silver wire, a prefabricated sterling silver chain, and various flexshaft attachments needed to complete the project. 
Students should bring
studio apron

studio towel

notebook or sketchpad

pen or pencil

If students have these additional tools, please bring them with you:

cross lock tweezers

flush cut wire snips