Inverted Spiral Chain
Inverted Spiral chain, a variant of the basic Spiral chain, is a more complex DNA-like double helix in appearance and is a bit more complicated to construct.
This afternoon session is designed for anyone who attended the morning session or anyone with intermediate level chain maille experience. Students will learn how to construct the Inverted Spiral weave by completing a bracelet in sterling silver. Students will also learn how weave it in mirror-image and how to join the chain end-to-end to make continuous clasp-less chains.
This afternoon workshop is held after the Double Spiral Rope Chain workshop in the morning. Register for one or both!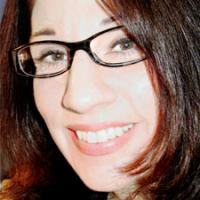 Jewelry designer and author, Karen Karon, has been weaving maille for well over a decade. She teaches chain maille and scale maille classes and workshops at Metalwerx School for Jewelry and Metal Arts, at local venues, and also provides private chain maille/scale maille instruction. In addition, Karen is a certified PMC (Precious Metal Clay) artisan. Karen has written articles for Art Jewelry, Bead Style, Bead&Button and Step by Step Wire Jewelry magazines and is the author of Chain Maille Jewelry Workshop and Advanced Chain Maille Jewelry Workshop, both published by Interweave. Her jewelry can be purchased at Loveday in West Concord, MA.
See Karen's work on her website (karenkaron.com) or visit her on Facebook and Instagram.
There is a $102 materials fee for this workshop payable upon registration. Kit includes sterling silver jump rings needed to make an 8" bracelet, a sterling lobster clasp, and a full color 17 page Karen Karon handout with step by step instructions.
Please note, the metal market is currently in flux. This will affect the price of silver and the materials kit price listed for this class is subject to change. We will inform you of this in advance of the class.
Students should bring
2 x smooth jaw pliers are needed - Metalwerx has tools for sharing

1 x optivisors - Metalwerx has for communal use - OPTIONAL

1 x polyester foam bead mat - OPTIONAL