Fabricating Bezels for Points and Corners
In this demo-focused virtual workshop, students will learn to fabricate a perfectly fitting fine silver bezel for a cabochon stone with corners and points, such as a pear or a square. From first measuring the length and height of the bezel to then soldering the bezel closed and onto a setting's back plate, students will be provided with various techniques in order to experiment with and determine which works best for them. In addition to learning how to test the fit of the stone in the bezel, students will learn how to reduce the height of the bezel, including ensuring the corner height is crisp, clean, and tight. This course will also cover how to stretch the bezel if it results in being too small and remove a portion of the bezel if too large--yep, it happens to the best of jewelers! Once the stone is in position to be set, students will learn to set the stone and perform the final filing, sanding, and polishing steps.
For demonstration purposes, the setting and finishing work will be shown with the bezel settings on a ring and on a pendant. However, students can accomplish all the skills taught as bezel setting samples, for which the suggested materials are designed.
If you took Fabricating Bezels for Round and Oval Cabochon Stones with Wendy Jo New or are ready to ramp up your skills to the next level of bezel setting, this stand alone class is for you!
There will be an Open Studio Hour at 10:00AM Eastern Time on Wednesday 8/2/23 for extra discussion, troubleshooting, and advice.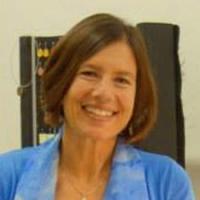 "Growing up, I always was mesmerized by sparkling gemstones and metals and I often incorporate something illuminating into my designs. Whether or not I intricately plan a jewelry piece in advance of producing it or just spontaneously fabricate one as I go along, the result is inevitably something that is unique with a contemporary flair that complements, rather than overwhelms, a wearer. When designing jewelry or other metal work, I always think about whether I would wear it, use it, and/or display it. Anyone who knows me sees a reflection of me in what I design.
I produce fine contemporary jewelry and other metal designs primarily in the precious metals of gold, silver, palladium, and platinum. These are often further defined with the addition of texturing, gemstones and other unique lapidary, or resin inlay. I also manufacture photo-etched metal jewelry and etched cover plates that are attached to journals or are framed--wedding invitations, bar and bat mitzvah invitations, baby announcements, and the like.
In addition to participating in art shows, sales, and doing commission work, I love providing instruction in jewelry design and metal fabrication. My work can be seen and purchased at galleries and stores, as well as in my own online store. Designing and fabricating engagement and wedding bands and other jewelry, often with people's stones, is particularly meaningful to me."
-Wendy Jo
The following supplies will be used for course demonstrations and objectives. A suggested item and/or vendor has been provided below for reference. Click the vendor name to be redirected to a page where you can view the item. The quantities needed for each item are listed first. If ordering, please be aware that some items may come in larger quantities than needed for this class. We recommend not opening an item's packaging until the day of the workshop. Student participation during or in-between class sessions is not required - observers are welcome.
Metal/raw materials:
6" x 2.38mm x 0.33mm fine silver bezel wire - 28g (Rio Grande)

6" x 3.18mm x 0.33mm fine silver bezel wire - 28g (Rio Grande)

3"x1" x sterling silver sheet dead soft - 22g (Rio Grande)
Cabochon stones (NOTE: Suggested vendors include Rio, Fire Mountain Gems, Indian Jewelry Supply, Village Silversmith, Stachura. Get 2 that meet the following criteria.):
6.5 or greater on MOHS hardness scale

opaque is suggested

one should be at least 12mm minimum

if ordering pear, Rio has 10mm x 7mm (which is okay) but bigger is better
Torch setup:
Hand tools:
Other/miscellaneous items:
hard work surface

fan and open window - or ventilation system

safety glasses

pencil, notebook

Sharpie - fine point

rags/towels

masking or painters tape

soft bristle toothbrush - could be old one

dental floss - the type that gets pulled from dispenser

double stick tape