David Baird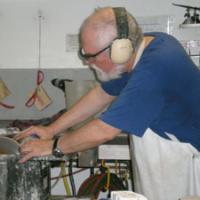 David Baird has been making jewelry for nearly four decades. He received his bachelor's degree at the Evergreen State College, and his MFA from The School of the American Craftsman at Rochester Institute of Technology. He also has a GG (Graduate Gemology certificate) from the GIA.
David sells his work nationally and has taught classes and workshops for at least 30 years around New England including Metalwerx, DeCordova Museum School, and Lexington Arts and Crafts Center. More recently he has been developing specialized jigs to make bench processes easier for his students. The Directed Open Studio courses at Metalwerx are led by David because of his vast knowledge about the many facets of metalworking.
Over the past 15 years, David has expanded his repertoire to include lapidary cabbing and carving. He now devotes his time between two studios, both lapidary and jewelry, taking on commissions by request. His studio is located at the Waltham Mill Buildings, near Metalwerx where still he teaches regularly.