Bette Barnett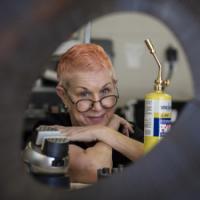 Specialty:
Gold and Steel
Bette Barnett has devoted her work since 2013 to exploring and experimenting with steel and gold. Bette began her jewelry career in 2010 and subsequently studied with the late Chris Nelson through his advanced workshops in fusing gold to steel. Since then Bette has perfected additional techniques and processes for steel, including Keum Boo on steel, fusing gold to iron wire, creating a variety of alloys for fusing to steel such as shibuichi and shakudo, etching steel and fusing gold to non-traditional steel forms, such as screens and wires. In recognition of her work to further steel and fused gold, the Santa Fe Symposium has selected Bette to create a research paper on steel jewelry and present it during the 2022 Symposium Conference. She has also published articles on steel and gold jewelry in Lapidary Journal: Jewelry Artist.
Bette honed her instructor skills during her former career as a corporate communication consultant by providing extensive training services for some of the largest companies in the world. She continually uses feedback from student surveys and hosting studios to refine her workshop offerings.
Bette teaches private lessons (both virtually and live) in her San Diego studio and offers group lessons throughout the U.S.