Aimee Berrent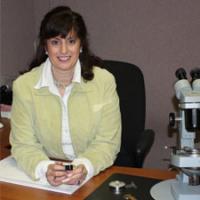 Ms. Berrent's credentials include being a Graduate Gemologist of the Gemological Institute of America, and a Member of the National Association of Jewelry Appraisers. 25 years of experience in the field.
As graduate gemologist, Ms. Berrent took courses in diamonds, diamond grading, color stones, color stone grading, pearls, restringing, and appraisals from the Geological Institute of America (GIA) in Santa Monica, California. From GIA's Boston office, Ms. Berrent learned about diamond grading and advanced diamond grading in continuing education courses. She has also taken a GIA/AGS seminar in diamond cut grading from JCK in Las Vegas Nevada. Attending appraisal and jewelry conferences, staying current in her field.
Over the past 25 years, she has worked in every facet of the jewelry field including, being a buyer for diamonds, colored stones, pearls, and gold jewelry. Managing a repair shop and supervising goldsmiths and other staff.
Ms. Berrent is a member of The National Association of Jewelry Appraisers, (NAJA), the GIA Alumni, and Chamber of Commerce- Newton/Needham MA.
She is an Independent appraiser. Does not buy or sell. Most appraisals are done "While You Watch" offering the comfort of knowing that your jewelry never leaves your sight.