Synclastic Forming: Beads, Bracelets, and Bowls
In this weekly class, students will acquire the skills needed to employ basic tools for crafting volume at the jewelry scale, as well as creating bowl forms using the very same techniques! This class will emphasize the importance of safe and precise hammer control, enabling students to get a handle (no pun intended!) on manipulating metal with exacting precision while keeping their body free of strain! Class will begin with the creation of synclastic bracelets and will then progress to working on unique metal bead shapes. Students will thereafter have the flexibility to either refine their proficiency in crafting jewelry-sized objects or delve further into the art and challenge of producing larger synclastic bowls forms.
Please note that this class serves as an introductory level course. While prior experience in sawing and annealing is preferred, it is not a mandatory prerequisite. All individuals, regardless of their experience level, are warmly welcomed to join this captivating exploration of forming techniques!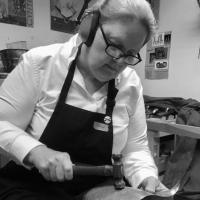 Diane received her BFA from the University of Massachusetts, Amherst, in 1983. She has continued to expand her skills and artistic horizons in her studio in Woburn, Massachusetts, and also in advanced jewelry and silversmithing classes at the DeCordova Museum School in Lincoln, Massachusetts. Diane favorite techniques include fabricating mokume, pave settings, raising, hot twisting, and soldered applique.
There is a $17 materials fee for this class that is payable upon registration. The materials kit fee covers large sheets of copper in 18g, 22g, and 24g, wooden blocks (for forming), and the use of various other studio materials and consumables needed to complete project objectives.
Students should bring
their own metal and favorite tools (kits includes everything needed)

studio apron

studio towel

notebook or sketchpad

pen or pencil

closed-toe shoes - required in the Metalwerx studio