Surface Texture in Enamel
In this demo-focused virtual workshop students will learn about the multitude of options for creating tactile surfaces in vitreous enamel. The course will cover applying and firing micro-beads, seed beads, granulation balls, sugar firing, and liquid gold accents. Demonstrations will be applicable for flat and 3D forms. Basic enameling skills are recommended for this course.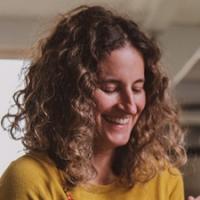 Jessica Calderwood is sculptor and jewelry artist working primarily with the mediums of metal, enamel, and marginalized crafts. She received her BFA from the Cleveland Institute of Art and her MFA from Arizona State University, with an emphasis Metalworking. Her work has been exhibited throughout the U.S. and internationally in curated and juried exhibitions. She has participated in artist residencies with the John Michael Kohler Arts/Industry Program, Mesa Arts Center, and several self-designed residencies with local industry. Her work has also been published in Metalsmith Magazine, American Craft, NICHE, Ornament, the Lark 500 series, and the Art of Enameling. She is currently an Associate Professor of Art at Ball State University in Indiana.
The following supplies will be used for course demonstrations and objectives. A suggested item and/or vendor has been provided below for reference. Click the vendor name to be redirected to a page where you can view the item. The quantities needed for each item are listed first. If ordering, please be aware that some items may come in larger quantities than needed for this class. We recommend not opening an item's packaging until the day of the workshop. Student participation during or in-between class sessions is not required - observers are welcome.
Metal/raw materials (note you can get a few colors of seed beads in transparent and opaque):
fine silver wire, cloisonne scrap, or bezel scrap - for granulation

6"x6" min. x copper sheet - 18g or 16g for samples (Rio Grande)

1 small vial min. x micro beads - avoid metal coating (Fire Mountain)

1 small vial x seed beads size 8 and 11 - avoid metal coating (Fire Mountain)

2oz x white enamel - 80 mesh - 1010 recommended (Thompson)

2oz x black enamel - 80 mesh - 1990 recommended (Thompson)

2oz x hard or medium golden clear enamel - 80 mesh (Thompson)

2oz x soft clear enamel (Thompson)

variable x your favorite enamels - optional (Thompson)

2g x liquid gold luster - optional (Euclids)

1 x small brush - if getting gold luster
Hand tools (note only get rotary items if you have a rotary tool to use):
1 x tweezers or rhinestone applicator tool (Rio Grande or Amazon)

1 to 2 x diamond ball bur - 1, 2, or 3 mm - optional (Rio Grande)

1 x brite boy stone - to clean metal - optional (Amazon)
Enameling setup:
Other/miscellaneous materials:
hard work surface

white glue - and small container with lid to mix in (Target)

highlighter

lavender oil - optional

small wide mouth lidded containers - for seed beads

large tupperware with lid

fan and open window or ventilation system

safety glasses

pencil, Sharpie, notebook

rags/towels