Stackable Rings
This one-day onsite workshop is a fun crash course into an everyday wearable - a set of stacking rings!
In Stackable Rings you'll learn to make a stack of hand-textured sterling silver rings, complete with an array of bezel-set cabochon stones or metal accents. With each demonstrated step, you will be learning fundamental jewelry making skills, making this a great course for beginners as well as those with more experience. We will texture, form, and solder rings, bezel-set stones, and complete rings to a desired finish.
Join us in the studio to make a one-of-a-kind stack of rings!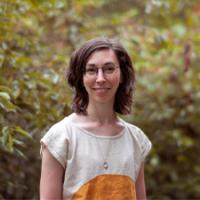 Forever fascinated by boxes and lockets, Kaitlyn has been fabricating these and other objects since starting her metalsmithing career in 2006. Using traditional metalsmithing techniques, she creates objects that encourage her to share overwhelming emotion, especially when the right words cannot be found.

Kaitlyn earned her jewelry and metalsmithing degrees from Millersville University of Pennsylvania and the University of Massachusetts Dartmouth. Through the years she has worked as a gallery manager, adjunct faculty, and workshop instructor at various institutions. She is currently the Program Coordinator at Metalwerx where she also teaches.
View Kaitlyn's work at www.kaitlynevans.com.
There is a $40 materials fee for this course which is payable upon registration. The materials kit includes ample 18g and 14g sterling silver wire, multiple sizes of fine silver bezel cups, 20g sterling silver sheet, multiple sizes of cabochon stones, screw mandrel, and other miscellaneous consumables items needed for workshop objectives.
Students should bring
Pencil, sketchbook

Ultra fine-point Sharpie permanent marker

Safety glasses or reading glasses for working up close. Metalwerx has some available to use, but please bring a pair if you prefer your own.

If students already have metalworking experience and want to bring their favorite hand tools, they are welcome to. It is not necessary for students to bring tools. Metalwerx has plenty available for use at class.