Stackable Rings
Stackable rings are a staple of everyday bling - ready to be mixed and matched with your mood! In this 1-day onsite workshop, you'll learn to make a stack of hand-textured sterling silver rings, complete with an array of the bezel-set cabochon stones. As you work through the steps demonstrated during the class that will cover fundamental jewelry making skills, you will also learn a great deal about the finer points and intricacies of making jewelry safely and effectively, in addition to bringing to life that sought after decorative appeal of a glittering jewel!
This course is designed to be accessible to all levels of experience in jewelry-making and will provide all the guidance you need to form, solder, texture, and stone-set! For complete beginners, this is a great opportunity to dip their toes in the waters of jewelry making!
Come join us in our studio to make a one-of-a-kind ring – or five or six!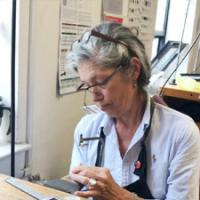 Emily joined the Studiomate Artists' community at Metalwerx in 2015. Since then, she has been enjoying the Metalwerx community, pursuing her quest for skill acquisition in techniques involving metal fabrication of jewelry and small-scale functional objects. Her favorite metalworking techniques include fusing, soldering, and texturing; lately she has been focused on developing skills in the art of filigree. As a life-long rock-hound, she also has a fascination with gems, pearls, and other materials' potential as adornment for pieces made using classic silversmithing techniques.
In 2020, Emily joined the Virtual Course Team at Metalwerx, and continues to host many of Metalwerx' virtual classes, working with an incredible line-up of instructors and dedicated students from around the globe. When it comes to Metalwerx, Emily considers herself to always be the luckiest person in the room!
Visit Emily's Instagram (@emilyglimp) to view her work and processes!
There is a $45 materials fee for this course which is payable upon registration. The materials kit includes ample 18g and 14g sterling silver wire, multiple sizes of fine silver bezel cups, 20g sterling silver sheet, multiple sizes of cabochon stones, screw mandrel, and other miscellaneous consumables items needed for workshop objectives.
Students should bring
Pencil, sketchbook

Ultra fine-point Sharpie permanent marker

Safety glasses or reading glasses for working up close. Metalwerx has some available to use, but please bring a pair if you prefer your own.

If students already have metalworking experience and want to bring their favorite hand tools, they are welcome to. It is not necessary for students to bring tools. Metalwerx has plenty available for use at class.