Shoulda' Put a Ring on It! Hollow-Backed Bezel-Set Rings
In this demo-focused virtual class, students will learn how to make a sterling silver hollow-backed ring with a large cabochon stone set in 22k gold. While large, the fabrication process covered in this course will ensure the ring will be light, comfortable, and perfectly contoured to the finger, for an exceptional fit. The stone setting aspect of this workshop will focus on large-scale bezel setting, allowing for a bold aesthetic. As the instructor, Alex Boyd, puts it, "This style of ring is so successful, it enabled me to purchase a second yacht to house my Bengal Tiger Mittens. That's a Bengal Tiger named Mittens, not mittens made from a Bengal Tiger."
Final day of class will be used to wrap up any loose ends, address final questions, and should not run past 12:00pm ET.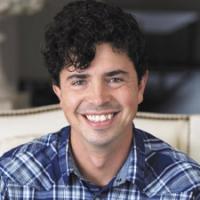 When Alex Boyd was a young boy he stole an enchanted ring from a powerful bruja. That night his slumber was disturbed by a tapping at his window. When he slid the window open a huge raven rushed in, flew around the room and perched on his bookshelf. "I know what you have taken from me," the raven cawed. "I don't know what you're talking about," Alex lied, hiding his bejeweled finger behind his back. "No matter. It is your problem now. The wearer of that ring is indentured to create more talismans of power, either for 1000 years or until he makes something so sublime, so perfect, so beautiful that the spell is broken and he is freed." "1000 years it is," Alex said as he thrust the raven out the window and slammed it shut behind her. He has been making jewelry ever since.
Visit www.alexboydstudio.com to view Alex's work.
Please CLICK HERE to view and purchase a supply kit directly from Alex Boyd's website. Kit's will be shipped out by Alex two weeks prior to class start date. Several stone options are available, as seen on the kit page.
The following supplies will be used for course demonstrations and objectives. A suggested item and/or vendor has been provided below for reference. Click the vendor name (in red) to be redirected to a page where you can find the item. The quantities needed for each item are listed first. If ordering, please be aware that some items may come in larger quantities than needed for this class. We recommend not opening an item's packaging until the day of the workshop. Student participation during or in-between class sessions is strongly encouraged but not required - observers are welcome.
A soldering setup:
Hand tools:
Other/miscellaneous items:
particulate dust mask

fan with open window or ventilation system

eye protection

sand paper strips - 350 to 600 grits (Amazon)

old tooth brush

shop rags/towels

Sharpie marker(s)

ruler

circle template