Sculptural Stone Carving
In this weekly in-person class students will start with learning to cut, shape, polish, and precisely carve stone to create miniature sculptures, forms, and motifs that can be transformed into wearable jewelry. The second objective of this course will focus on teaching students to create findings / settings for their mini stone sculptures, adorning them with accents of sterling silver.
This course will go over the safety instruction and use of a lapidary machine, trim-saw, flex-shaft, as well as various diamond bits and their applications. A basic knowledge of stone setting and soldering with sterling silver will be required to participate and get the most out of this workshop. This course will give students the steps, confidence, and skills necessary to continue stone carving in their own practice!
Students are encouraged to bring their own rough stone to work in. No worries if you don't have any! Ample, unique stones will be available for purchase.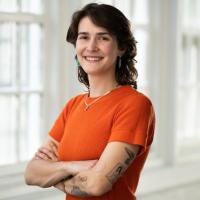 Allie is a Santa Clarita, CA native. During her younger years, she and her family rooted in a quaint town outside of Boston, MA. Allie later went on to attend Massachusetts College of Art & Design, where she graduated with a BFA in Jewelry & Metalsmithing.
Started in January 2020, Allie Keast Jewelry emerged as a creative means to capture and transform the many beautiful elements that surround and influence us. Inspired by her love of collecting ephemera; jewelry making has facilitated her desire to give these findings a new life.
Each piece is thoughtfully designed and meticulously crafted to last, using hand sourced and recycled materials from all over, but predominantly from the Northern East Coast.

Allie's work has been featured in Milano Jewelry Drops, MassArt and the Fuller Craft Museum. You can catch her at various Artisan Markets selling her work throughout New England.
When Allie isn't in her studio, you can find her scurrying the New England sea shores for lost shells and stones, or lounging with her best bud and ANK mascot, Rusty the bearded dragon.
Visit www.alliekeastjewelry.com to view Allie's work.
There is a $85 materials fee for this workshop payable upon registration. The materials kit includes a high-quality, long-wearing diamond bur master set, fine silver bezel wire, sterling silver wire in multiple gauges, sterling silver sheet, radial bristle discs in multiple grits, saw blades, and other miscellaneous consumable items needed to complete workshop objectives. 
Students should bring
imagery - suitable references to work off of

waterproof apron (click here for example)

rough stones (beach stones, pre-tumbled stones, slabs 1/2" thick, etc.)

pencil / sketchbook

Sharpie marker

safety glasses / reading classes

coffee / breakfast snack - if you get hungry