Sculptural Jewelry: Argentium Silver & Foldforming
In this workshop with master silversmith Cynthia Eid, students will learn to use Argentium sterling silver (AS), a more malleable and ductile material than traditional sterling silver, in combination with the fold forming techniques.
Fold forming lends itself to spontaneity, creativity, and innovation. Combining the design and structural possibilities of fold forming with the advantages of Argentium silver can create unique, light, strong, three-dimensional jewelry that is highly tarnish-resistant, fire scale free, and can be hardened in a toaster oven or kiln! Learn how to anneal, solder, fuse, granulate, harden, and finish AS. Demonstrations of foldforming will alternate with Argentium silver techniques, followed by hands-on work-time for participants. Students may choose whether to do all their work in Argentium Silver or make a foldformed sample in copper before making a finished piece with Argentium. Demos will be primarily done with the new Argentium 940 alloy, but Cynthia will also include tips for working with the older 935 alloy.
Cynthia Eid has been working with Argentium Silver since 1999 and is the author of the technical guide to Argentium sterling for Rio Grande, and articles published by the SNAG Society of North American Goldsmiths, and Art Jewelry magazine. Cynthia Eid is one of two people recognized as Pioneers by Argentium International Ltd. Cynthia has worked with fold forming since 1996, after studying with Charles Lewton-Brain. Her work is included in his seminal book about Fold Forming.
This class is sponsored by Rio Grande and a limited number of scholarships are available. Apply now!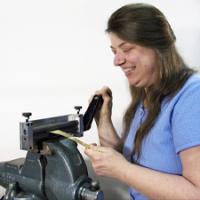 Whether using hammers and stakes, or hydraulic press tools, Cynthia's sculptural jewelry and hollowware shows her focus on exploring the fluidity with which metal can be moved, formed, and joined.
Cynthia Eid co-authored the book Creative Metal Forming, with Betty Helen Longhi, published in 2013 by Tim McCreight's Brynmorgen Press. In his foreword for the book, Michael Good says the authors "have succeeded in assembling the first comprehensive textbook on synclastic and anticlastic forming." (More about the book available at www.creativemetalforming.com.)
Cynthia and Betty developed a set of anticlastic stakes, and Eid also works with Knew Concepts and Bonny Doon to help make tools for jewelers and metalsmiths. Lee Marshall has dubbed Cynthia Eid "Godmother of the Knew Concept Saws" since it was her idea for him to produce these saws for jewelers.
Excited about working in sterling silver without the problem of firescale, Cynthia has been working with Argentium Silver since 1999. After meeting Peter Johns (the inventor of Argentium Silver) in 2003, Eid has participated in AS's development. Argentium International, Ltd recognizes her as a Pioneer.
Cynthia Eid's metalwork has won awards for creativity and design, been featured in many publications, and been exhibited internationally. With a BS in Art Education and MFA in Jewelry, Design, and Silversmithing, she has previously worked as a bench jeweler for fine goldsmiths, a model-maker in a gold jewelry factory, and on private commissions. Her work is in museums in the US and UK. Currently an independent metalsmith and educator, she teaches weekly classes at Metalwerx in Massachusetts, and workshops and short courses in the US, Canada, Europe, and Australia.
There is an estimated $141 materials kit for this course, which is payable directly to the instructor in class. Cynthia will compile and provide the following materials needed for class:
AS 940 22 gauge sheet 2" x 6"

AS 940 24 gauge sheet1.5 " x 6"

Copper 24 gauge sheet 6" x 12"

AS posts – 20 - $9

20 gauge round AS wire – 6 feet

18 gauge round AS wire – 3 feet

18 gauge iron binding wire – 1 foot

18 gauge brass wire – 1 foot

Argentium Medium Solder-1/2" x 2"

AS Easy solder – ½" x 2"

Bench knife
Students should bring
A bench knife for opening foldforms will be provided in the kit.
Any of the following can be useful tools for opening a fold form: old butter knife or any old knife without a serrated edge, an old paring knife, old letter opener, chasing tools such as liners, clam shucker, folding bone, hard plastic food "scraper" or spatula, wooden tools made for trimming clay. Bring any that you have.

A Sharpie marker
The Metalwerx studio is well supplied. However, if students would prefer to use their own tools, rather than sharing shop tools, they may wish to bring:
charcoal block - strongly encouraged if you have it

A steel bench block

Sandbag

A planishing hammer

A small cross-peen/raising hammer

Ear plugs

A leather or plastic mallet

Magnifier or Optivisor

Files – half-round #2 6" hand file, and a few needle files

Sanding sticks and/or abrasive papers

Metal shears (Hand-held), such as Joyce Chen

3 or more "dishes" or containers to hold solder chips and AS granules, such as yogurt lids, or jar caps

Favorite flex shaft tools such as radial bristle discs, sanding discs, diamond burs…..

Favorite soldering tools (poker, tweezers, …)

Fabric, ribbon, etc for roll-printing (imprinting texture onto metal using a rolling mill)

Students may wish to bring additional Argentium Silver, if they tend to be prolific, or work large.

3" or more 22KYG 22 gauge round wire---for fusing and/or granulating to Argentium Silver. (Contact instructor for help if you wish to purchase it, but are unable to do so because of not having a wholesale account.)

Close-toed shoes (safety in case of dropping something hot, sharp, or heavy)

1 or more clean "shop cloths", such as an old towel, (to save on paper towels, and to wrap up your work at the end of the workshop
It is advisable to put your name on your tools prominently.