Russian Filigree
Learn Russian ("open back") filigree through extensive demonstrations and hands-on exploration. Participants will create both a pendant and a ring while learning the necessary steps and tricks to ensure success and fun through this exquisite technique.
Those familiar with filigree from Victoria's DVD will have the opportunity to work on more advanced projects. As time allows, there may be opportunity to investigate more three-dimensional possibilities (such as a bead) with the process. Participants must know how to solder with a torch.
Victoria's award winning artwork has appeared in international juried and curated exhibits, including the Crafts National 2012, Radical Alchemy, Metal Inclinations 2, CraftForms 2010, 2009, and eXtreme Tea. She is the author of the internationally acclaimed series, Metal Techniques of Bronze Age Masters which includes the DVD, Russian Filigree. Her work in this technique has been featured in many publications, including Metalsmith and Jewelry Artist magazines. Many more examples of this technique can be found at her website, www.victorialansford.com.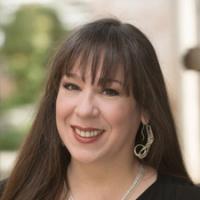 Victoria Lansford works across multiple artistic media and is best described as a "one woman, big city, symphony orchestra." Lansford has spent over 40 years working in the visual, literary, and performing arts to paint with fire, forge with words, and choreograph with color, line, and texture. Her award winning and genre busting art and fine craft combines centuries old techniques with cutting edge technology to create artwork that ranges in scale from wearable to hangable to architectural. Her painstakingly intricate art is made from precious metals, gemstones, ink, paint, skins, paper, hammers, punches, pliers, gravers, brushes, pencils, pens, or quills and takes many forms including art jewelry, craft objects, miniature paintings, calligraphic artist books, and metal screens. All of her designs revolve around the interplay of negative and positive space, the origins of the universe, and mythological archetypes to bring forth external displays of feminine power.
Lansford's art has has been widely exhibited in galleries, museums, and publications, including the Lark 500 book series, Metalsmith and Jewelry Artist magazines, Repousse and Chasing (Brynmorgen Press), and on Home and Garden Television. She has created a world-wide renaissance for many, old world, fine metal techniques through her sold out workshops, videos, books, articles, and apps.
Lansford's most recent large-scale commissions were for one of the world's largest, bespoke, superyachts: a floor to ceiling, etched copper screen and Eastern repousse double doors, both depicting oceanic scenes. She won a 2019 Independent Publishers Award for Best Design and a 2020 e-Lit award for her ground breaking, animated ebook Giving Voice (Spiral Publications) with introduction by best-selling author of the Griffin and Sabine trilogies Nick Bantock.
Lansford lives in Atlanta, GA with her husband Chris, son Skyler, and two Shelties Boudica and Elizabeth
A materials kit will be provided for this workshop. It is estimated to cost $60 and is payable at the workshop. It includes 16 gauge round and square sterling wire, a half ounce of 26 gauge round fine silver wire, a fresh hard compressed charcoal block, and other misc supplies for the process.
To save time, we will use Russian Filigree Powdered Solder instead of making the solder from scratch. Enough solder will be provided for use during class. Sheet, wire, as well as paste solder will also be available for use in class.
If you have made several of the projects from the DVD, you may choose to work on more advanced projects. If so, please email Victoria with ideas of what you would like to make, and I will suggest which supplies you might need.
Student Supply List
Fine pointed tweezers AA or MM Boley style (for an example, click here -- may be ordered from any supplier) very important piece of equipment! These must never have been used for soldering!
Joyce Chen kitchen shears
Fine chain nose pliers (Lindstrom brand pliers are outstanding.)
Sharpie marker
Optional - The following items are available at Metalwerx to use during class. However, students may have to share. You are welcome to bring your own if you prefer:
Hard silver paste solder from Hauser and Miller
Round and flat pliers
1 each coarse, medium, and high shine silicon knife-edge wheels in 7/8" diameter
Nylon ring bending pliers
Small steel bench block
Flux brush (very important! Cheap nylon type is best.)
Round ring mandrel
Mask and safety goggles for using the flex shaft
Students who get to the polishing stage in their pieces may want to have
Silicon and/or pumice wheels
Mini muslin buff for a high shine
Screw top mandrels for the flex shaft