Riveted Bangle Bracelets @ Weston AIC
Learn a quick and easy way to make textured bangle bracelets! This course will focus on forming a stack of bangles utilizing copper and sterling silver. Students will texture and forge their metal into different shapes and patterns using numerous metalsmithing hammers. The class will discuss a variety of hammer striking methods and how to best control your hammer mark! To finish, the class will learn how to close their bracelets using a "cold connection" technique known as riveting. Each bangle can be embellished with a different texture or designed as a uniform set. 
*NOTE: This workshop is offsite at the Weston Art and Innovation Center (about ten minutes from Metalwerx). Click HERE to visit their website for directions and information on parking.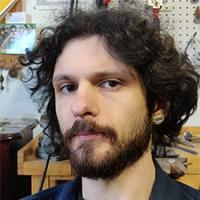 William Vanaria is a Massachusetts based artist with a penchant for oddball materials. His work utilizes traditional metalsmithing techniques and a wide verity of non-traditional materials to produce jewelry which both questions and comments on notions of romanticism, value, fakery, and the hierarchy of materials present within modern day consumer culture. Through his work he pushes for a broader system of value which has been formulated though experience, consideration, and critical thinking.
William received a Bachelor of Fine Arts degree from the Massachusetts College of Art and Design with a concentration in "Jewelry & Metalsmithing" in 2012. Afterwards, he spent time working within the jewelry industry and volunteering as a teacher's assistant for various art institutions. He found that the latter was much more fulfilling, so he went on to further his education within the arts and to pursue a career in teaching. William received his Masters of Fine Arts degree from the University of Massachusetts: Dartmouth in 2016; once again with a concentration in "Jewelry & Metalsmithing."
There is a $25 materials kit fee for this course that is payable upon registration. A substantial sterling silver strip, sterling silver wire, copper wire, and copper sheet will be provided for each student, plus all tools necessary for completing the projects. 
Students should bring
writing utensil & notebook
any personal jewelers tools that you enjoy using
glasses (if needed)