Rhino Weaves Part 2: Screw Chain Bracelet
The afternoon session is designed for intermediate level weavers. Students will learn how to construct Screw Chain weave by completing a bracelet in sterling silver. Other weaves discussed in this session will be Prejudiced Rhinos, Prejudiced Rhinos Everywhere and Prejudiced Rhino Sheet. Each of these weaves is based on Bias European 4-in-1 weave structure. An understanding of Bias European 4-in-1 will be helpful but is not necessary for enrollment. It is assumed that students who enroll are proficient weavers, know the difference between Through-the-Eye and Around-the-Eye connections, and understand gauge, inner/outer diameter and aspect ratio.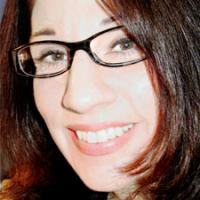 Jewelry designer and author, Karen Karon, has been weaving maille for well over a decade. She teaches chain maille and scale maille classes and workshops at Metalwerx School for Jewelry and Metal Arts, at local venues, and also provides private chain maille/scale maille instruction. In addition, Karen is a certified PMC (Precious Metal Clay) artisan. Karen has written articles for Art Jewelry, Bead Style, Bead&Button and Step by Step Wire Jewelry magazines and is the author of Chain Maille Jewelry Workshop and Advanced Chain Maille Jewelry Workshop, both published by Interweave. Her jewelry can be purchased at Loveday in West Concord, MA.
See Karen's work on her website (karenkaron.com) or visit her on Facebook and Instagram.
There is a $85 materials fee for this workshop payable upon registration. Kit includes 200 sterling silver jump rings in 18g, lobster claw, and a full color Karen Karon handout with step by step instructions.
Students should bring
2 x personal flat nose pliers - smooth jaw (Metalwerx has some)

personal optivisors

polyester foam bead mat - optional (Fire Mountain)