Prong Setting Comprehensive
Get ready to step up your jewelry making game with a prong setting comprehensive! Prongs are thin, linear strips of metal that extend upward from a band or base, creating a cone-like cradle to hold a center stone. Once the gemstone is properly seated inside the cradle, the ends of the prongs are bent over toward the stone to hold or bind it securely in place, creating a tight fit that shows off the stones natural sparkle.
In this comprehensive weekly class, students will make prongs from scratch using wire, sheet metal, and tubing. Round, oval, emerald, trillion, as well as numerous other shapes will be covered in both traditional geometric styles and custom organic applications!
Pre-fab setting can be extremely useful when fabrication a production line or when time at the bench is short - learning to effectively use pre-fabricated prong settings can save jeweler many hours, allowing them to put more emphasis on design and making the cost of the fabrication process more economical! In addition to fabrication prongs from scratch, this class will teach students how to work with commercial prong settings, showing how to pre-notch them using stone setting burs, how to seat stones properly, and how to customize them for a more handcrafted look.
Tips on finishing prongs and working with odd-shaped stones will be covered as well. We will be using sterling prong settings throughout this course but anyone can use gold settings if they wish to bring in gold.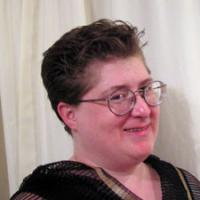 Joy Raskin has been a silversmith since 1984 and has exhibits throughout the United States, Ireland and New Zealand, showcasing both her jewelry and flatware designs. Joy is a native of New Hampshire, having attended public schools in Manchester and Concord and was accepted as a member of the League of NH Craftsmen while still in high school. She received her BFA from the Rhode Island School of Design and her MFA from the University of Massachusetts Dartmouth. Joy is an instructor at Metalwerx in Waltham, MA, The Craft Center in NH, Sharon Art Center, and many other schools.
Joy has received many awards for her work. She was commissioned by the NH State Council on the Arts to create the Cultural Access Award for the Governor's Awards in the Arts in 2001. Her work is included in many collections, including the White House and Smithsonian Institution. Joy's work is found in multiple galleries throughout New England, including the League of NH Craftsmen Galleries, Boston Society of Arts & Crafts, Guilford Art Center, Millbrook Gallery, and others.
There is a $130 materials fee for this class that is payable upon registration. The materials kit fee covers several feet of sterling silver round wire (12g, 16g, 18g, 20g), sterling silver tubing (6.12mm dia.), sterling silver half round wire (8g), sterling silver sheet metal (20g) sterling oval prong setting, sterling emerald prong setting, sterling triangle prong setting, sterling trillion prong setting, sterling square prong setting, sterling marquis prong setting, sterling pear prong setting, sterling cushion prong setting, sterling round prong setting, faceted stones (cushion, round, pear, marquis, trillion, oval, emerald, square), and the use of various other studio materials and consumables needed to complete project objectives.
Students should bring
their own metal (kit comes with all items needed for lass)

favorite tools (communal MWX studio tools may need to be shared)

studio apron

studio towel

notebook or sketchpad

pen or pencil

closed-toe shoes - required in the Metalwerx studio