Precious Movements: A Wellness Course for Jewelers
Your alignment in the studio matters! Most jewelers aren't taught how to sit or stand well at the bench. Did you know that your movements can actually retrain your body to create strength in areas that might be lacking? Your studio practice directly influences the longevity of your hands and body, which ultimately affects your career. It's not easy to unlearn the patterns and habits that our bodies have adapted to. But the good news is that your body is capable of developing new movement patterns that can strengthen your studio practice in the long run.
As an educator, Missy feels a strong sense of responsibility to create a new understanding surrounding the relationships between our bodies and our studio practices. In this 3 week series, Missy will teach you how to move in a way that helps you find the relief you deserve so you can keep experiencing a lifetime of making. Your body is worth the effort!
Courses with Missy include a mix of background information, such as how knots develop in the body, and practical instruction, such as different ways to increase blood flow, circulation, and flexibility. These techniques are designed to help boost energy levels, alleviate pain, reduce the risk of injury, and improve posture.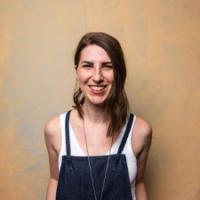 Missy Graff Ballone is the Founder and Podcast Host of Wellness for Makers! She is also the Author of Wellness for Makers: A Movement Guide for Artists. Her mission is to motivate and empower creatives, like you, through education, mindful-living, and movement! She uses her unique backgrounds as an Artist, Alignment-based Yoga Instructor RYT500, and Licensed Massage Therapist to make information about the body accessible to artists everywhere. Missy graduated with her MFA in Metals from the State University of New York at New Paltz and later decided to combine her backgrounds to bridge the gap between wellness and the artist studio practice. As an artist, Missy understands the aches and pains that go into having a creative practice. That's why she decided to use her specializations to create this wellness offering just for you!
Learn more about Missy at www.wellnessformakers.com.
massage ball - yoga tune up ball or two tennis balls
yoga block or a book (of similar size)