Polymer 5: Techniques with Translucents
Want more depth in your polymer clay creations? In this demo-focused virtual workshop, Bonnie will demonstrate a variety of techniques that she has employed over the years in making some of her favorite cane designs, capitalizing on the unique qualities of translucent polymers. Students will learn to construct four different simple canes that create big effects. They will then learn to apply those patterns in a variety of ways in their polymer projects. Basic skills with polymer will help students get the most out of class, but are not required to participate.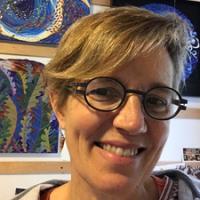 Bonnie Bishoff has worked collaboratively with her artistic partner and husband J. M. Syron since 1987. Starting as furniture makers, they made work that incorporated large panels of polymer veneers for 28 years. Gradually they shifted their focus to explore jewelry and mixed media pieces.They tend to work in series and on several fronts at once. The focus of their jewelry has been creating metal armatures, textured and oxidized metal surfaces, and polymer marquetry surface designs. In addition they have been exploring a series of wall panels or "paintings" in polymer veneers and wire armatured sculptures.
They have exhibited widely in galleries and fine craft shows including the Smithsonian and the Philadelphia Museum of Art. Museum exhibitions include the Peabody Essex, The Museum of Art and Design, NY and the permanent collection of the Racine Art Museum. Their materials include veneers of polymer clay, silver, bronze, copper, and wood. They aim to create work that projects an expansive notion of art and creative pursuit to be shared by the wearer with the world.
The following supplies will be used for course demonstrations and objectives. A suggested item and/or vendor has been provided below for reference. Click the vendor name to be redirected to a page where you can find the item. The quantities needed for each item are listed first. If ordering, please be aware that some items may come in larger quantities than needed for this class. We recommend not opening an item's packaging until the day of the workshop. Student participation during or in-between class sessions is not required - observers are welcome. 
Premo, Fimo Soft, Kato, or Sculpey III polymer clay from Polymer Clay Super Store, Joann Fabrics, or Sculpey Products in the following colors (no one supplier has them all so do your best):
4 x 2oz pack - translucent, translucent-white, or bleached translucent

1 x 2oz pack - white

1 x 2oz pack - pearl

1 x 2oz pack - 18k gold, bronze, or antique gold

1 x 2oz pack - black
Polymer tools (please ask if substitution will work): 
Other/miscellaneous items: 
masking tape

ruler

waxed paper or "deli sheets" 

cleaner for board and blades (rubbing alcohol, windex, etc.)

notebook and writing implements 

paper towels or soft cloth