Polymer 2: Luminous Color Blending for Polymer Canes
Color blends are one of the most dynamic and challenging techniques to explore with polymer, but create luminous effects that can be used to make beads, stand alone components, and much more. In this live, virtual course, students will first learn how to make vibrant, glowing color blended sheets of polymer and then how to construct a variety of canes using these gradients. Color mixing, blending methods, cane construction, and finished methods will be discussed throughout the class. Handouts, pre-recorded video and live demonstrations, along with in class work time will help students tackle this intriguing polymer clay process! Basic polymer cane and patterning skills recommended.
There will be an Open Studio Hour at 6:00PM Eastern Time on Monday 4/10/23 for extra discussion, troubleshooting, and advice.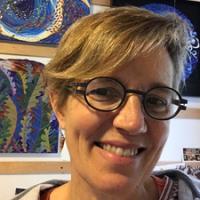 Bonnie Bishoff has worked collaboratively with her artistic partner and husband J. M. Syron since 1987. Starting as furniture makers, they made work that incorporated large panels of polymer veneers for 28 years. Gradually they shifted their focus to explore jewelry and mixed media pieces.They tend to work in series and on several fronts at once. The focus of their jewelry has been creating metal armatures, textured and oxidized metal surfaces, and polymer marquetry surface designs. In addition they have been exploring a series of wall panels or "paintings" in polymer veneers and wire armatured sculptures.
They have exhibited widely in galleries and fine craft shows including the Smithsonian and the Philadelphia Museum of Art. Museum exhibitions include the Peabody Essex, The Museum of Art and Design, NY and the permanent collection of the Racine Art Museum. Their materials include veneers of polymer clay, silver, bronze, copper, and wood. They aim to create work that projects an expansive notion of art and creative pursuit to be shared by the wearer with the world.
The following supplies will be used for course demonstrations and objectives. A suggested item and/or vendor has been provided below for reference. Click the vendor name to be redirected to a page where you can view the item. The quantities needed for each item are listed first. If ordering, please be aware that some items may come in larger quantities than needed for this class. We recommend not opening an item's packaging until the day of the workshop. Student participation during or in-between class sessions is not required - observers are welcome.
You will want to have the following polymer selection available. Bonnie has a large supply on hand and may be able to send some to you directly. To order all or some of these colors, email [email protected]. Due to a bit of a shortage of polymer, you can also get any number of the following colors of either Premo!, Fimo Soft, or Sculpey III polymer clay which can be purchased from Polymer Clay Superstore, the Sculpey website, Fire Mountain Gems, Joann Fabrics, Sculpey Products, or Shades of Clay (in Canada). Stay away from glitter options. White and black will be used heavily. Do your best to get a range of the following:
1 x 2oz bar of black 

3 x 2oz bar of white or sahara or ecru

2 x 2oz bar of pearl or silver

1 x 2oz bar of pomegranate or cherry red

1 x 2oz bar of yellow or zinc or lemon

1 x 2oz bar of brilliant blue or cobalt blue or ultramarine blue or purple

1 x 2oz bar of orange or tangerine
Polymer tools (please ask if substitution will work): 
Other/miscellaneous items: 
masking tape

ruler

waxed paper or "deli sheets" 

cleaner for board and blades (rubbing alcohol, windex, etc.)

notebook and writing implements 

paper towels or soft cloth