Points of Movement: Joints, Pivots, Hinges, and More
Mechanical movement in small-scale jewelry and metalwork can be achieved in a bewildering variety of ways. In this workshop, led by master maker Nash Quinn, students will create a series of mechanisms, ranging from simple, rivet-based pivots to sturdy hinges and playful universal joints. Along the way, we'll examine sample mechanisms and learn how to harvest information from everyday mechanical objects that can inform our work. We'll also discuss tools and materials that make creating motion easier. The principles behind the mechanics made in this class can be applied to all sorts of projects, from kinetic jewelry to secure and satisfying boxes or clasps.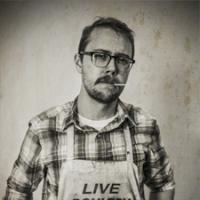 Nash Quinn is a metalsmith who works with a variety of materials, techniques, and formats. Originally from Wyoming, he received his BFA from the University of Wyoming, and his MFA from Edinboro University of Pennsylvania. He was a faculty member at Rowan University and Munson Williams-Proctor Arts Institute, and has worked, taught, and exhibited artwork at craft schools and jewelry academies nationwide.
There is a $50 materials fee for this course, which is payable upon registration. The kit will be comprised of machined screws, thick-walled tubing, brass stock sheet, rod/wire, and other miscellaneous items needed for project objectives.
Students should bring
any of their of metal that they may wish to use in addition to what they get in their kit

closed toed shoes - required in the Metalwerx studio

any of their own favorite tools - Metalwerx is equipped with communal studio tools

pen/pencil and notepad for notes and sketching

lunch