Pearl Carving Exploration
Pearls are beautiful to look at and can add an elegant mystique to a piece of jewelry on their own, but did you know you can add your own unique flare to them? Discover the art of carving freshwater pearls in this weekend onsite workshop! Spend three days learning pearl carving techniques using only rotary tools and your hand skills. Design layout, drilling, burring, and polishing will all be covered. Students will then turn their pearl carvings into their own pieces of jewelry using sterling silver. Gain the knowledge needed to accentuate and compliment a pearl's natural charm!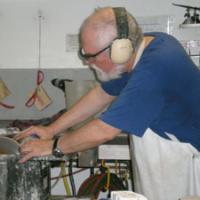 David Baird has been making jewelry for nearly four decades. He received his bachelor's degree at the Evergreen State College, and his MFA from The School of the American Craftsman at Rochester Institute of Technology. He also has a GG (Graduate Gemology certificate) from the GIA.
David sells his work nationally and has taught classes and workshops for at least 30 years around New England including Metalwerx, DeCordova Museum School, and Lexington Arts and Crafts Center. More recently he has been developing specialized jigs to make bench processes easier for his students. The Directed Open Studio courses at Metalwerx are led by David because of his vast knowledge about the many facets of metalworking.
Over the past 15 years, David has expanded his repertoire to include lapidary cabbing and carving. He now devotes his time between two studios, both lapidary and jewelry, taking on commissions by request. His studio is located at the Waltham Mill Buildings, near Metalwerx where still he teaches regularly.
There is a $45 materials fee for this workshop that is payable upon registration. The materials kit includes two feet of sterling silver wire (18g), one foot of sterling silver (10g), diamond bur set (400 grit), medium bristle brush, stiff natural bristle brush, stiff bristle cup brush, cutting and polishing compound, and other various miscellaneous materials needed to complete class project.
David will be selling fresh water pearls sourced from Stachura during the workshop.
Students should bring
sketchbook, pen, and pencil

reading glasses - if needed

closed toe shoes - required in Metalwerx studio

Sharpie fine point marker

bottle cork (real one) - if you have them