Monitored Open Studio
Monitored Open Studio is open to any member who is enrolled in or has completed at least one metalsmithing course.
This is a time to work independently on projects, but there will be a monitor in the room to help less experienced participants find tools and ensure safe studio practices.
Note: Payment is NOT collected when registering for Open Studio Time. Members can purchase blocks of time onsite at Metalwerx or through Paypal. Open Studio costs $10/hour, sold in $50 or $100 increments.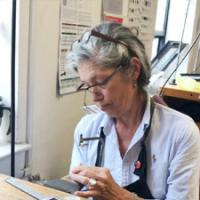 Emily joined the Studiomate Artists' community at Metalwerx in 2015. Since then, she has been enjoying the Metalwerx community, pursuing her quest for skill acquisition in techniques involving metal fabrication of jewelry and small-scale functional objects. Her favorite metalworking techniques include fusing, soldering, and texturing; lately she has been focused on developing skills in the art of filigree. As a life-long rock-hound, she also has a fascination with gems, pearls, and other materials' potential as adornment for pieces made using classic silversmithing techniques.
In 2020, Emily joined the Virtual Course Team at Metalwerx, and continues to host many of Metalwerx' virtual classes, working with an incredible line-up of instructors and dedicated students from around the globe. When it comes to Metalwerx, Emily considers herself to always be the luckiest person in the room!
Visit Emily's Instagram (@emilyglimp) to view her work and processes!
Open Studio Fees cover the cost of general consumables such as solder, flux, polishing compound, etc. It does not include metal or enameling supplies.
Students should bring
Projects to work on.
Metal and raw materials.
Any tools from home you wish.