Mokume Gane: Wood Grain Patterns in Metal
Mokume Gane or "wood grain metal", is a traditional Japanese technique in which two or more different metals are meticulously cleaned, alternately stacked, compressed, and heated to a high temperature. The result is the fusing of all layers into a solid block or "billet". The billet can be made into sheet metal with a variety of patterns by repeatedly carving through layers and reducing the thickness. Ring stock can be made by twisting a thick piece to rearrange the layers and removing material to reveal a hidden pattern.
Through a series of demonstrations and hands-on practice, participants will learn a western influenced method of making mokume gane by using a digitally controlled electric kiln to fire a copper and silver billet. Techniques demonstrated include fusion & diffusion bonding, seamless ring fabrication, Mokume Gane patterning, as well as various metalsmithing and jewelry techniques (including sawing, forging, and soldering) pertinent to the process. Mokume Gane applications are highly technical in nature - students will need to be familiar with introductory jewelry making skills to be successful. 
If you'd like to see more of Eric's work, please visit his website ericburrisjewelry.com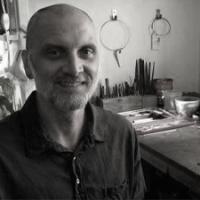 Eric Burris is a metalsmith and jeweler who constructs sculptural jewelry, influenced by nature, architecture, travel, and the materials themselves. He combines wood with Mokume Gane; they complement each other visually, but contrast in terms of natural vs. man-made. Maps are incorporated to offer visual clues and add color.
Eric has been making things out of metal and teaching others how to do the same for over twenty years. He has a BFA from Kansas State University and an MFA from Arizona State University. He's also been employed as a bench jeweler, an adjunct instructor at multiple colleges, and sold his jewelry nationally at fine craft shows. During graduate school he was hooked on the Japanese technique, Mokume Gane. By combining traditional and western methods he's developed a low tech and efficient method of making diffusion bonded Mokume Gane. Eric thrives on sharing his metal working experiences and travels around the country teaching workshops. He has also made a living working with dogs as an amateur dog trainer and operating a dog walking business. He lives in Maryland with his printmaker partner, Gretchen and their dog Javier."
There is a $160 materials fee for this workshop that is payable to the instructor. The materials kit includes 7 sheets of sterling silver sheet (22g), 8 sheets of copper (20g), 1 sheet of sterling silver (18g), 2 steel torque plates, 4 nuts and bolt (high grade steel), container, cleaning jig (made by instructor), scotch brite pads (mounted), pumice powder, citric acid, sand paper (320), activated carbon pellets, stainless steel foil, drill bits (1/8", 3/16"), unitized wheels on 1/4" mandrel, wood block and screws. 
Students should bring
studio apron

studio towel

notebook or sketchpad

pen or pencil

closed-toe shoes - required in the Metalwerx studio

lunch - Metalwerx has a fridge, toaster oven, and microwave
Metalwerx has hand tools available for use during class, but students may have to share. Please bring the following if you have them.
any flex shaft burs you already have for patterning sheet

basic hand tools (saw, files, sand paper, scribe, ruler) you might like to use

leather work gloves (limited amount at Metalwerx)

safety glasses, ear protection, dust mask