Locket and Chain: Keep It Secret, Keep It Safe
In this live, virtual workshop, students will be creating a small hinged locket and then a complimentary chain. The instructor will begin with demonstrations for locket construction, including a hinge and catch. Students will follow a basic layout that will allow for personalization of their own locket and chain. Different bail options and how they correspond with varying chain styles will be reviewed. Additionally, multiple clasp demonstrations and examples will be covered. By the end of the workshop students will come away with a full understanding of locket and chain construction and a variety of additional technique possibilities!
This course will consist of four sessions on Tuesday 2/2/21, Thursday 2/4/21, Tuesday 2/9/21, and Thursday 2/11/21.
Class will be held live via Zoom during the designated time frame. A link to the Zoom room will be sent via email. 
Each session will be recorded and you will receive a password protected link to the recordings that expire after 30 days.
Please read the Materials & Tools tab!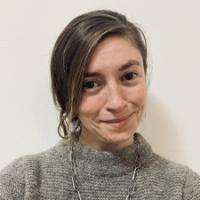 Jennifer Wells is a studio artist and educator originally from the U.S but currently living in Italy. She holds an MFA, in Metalsmithing & Jewelry Design and has completed artist-in- residencies at: Arrowmont School of Arts and Crafts in Gatlinburg, TN, Pocosin Arts in Columbia, NC and the Jentel Foundation near Banner, WY. She has worked for several U.S based Craft Schools, in a variety of roles.
As an educator, Jennifer has taught for and been a visiting Artist at Universities throughout the U.S and for study abroad programs based in Italy. She serves on the Board of Vita Institute and teaches short workshops on various enameling and metalsmithing techniques throughout Europe and the U.S. In recent years she has curated multiple international exhibitions focused on jewelry and enameling.
Her works are in the collections of the Enamel Arts Foundation, Racine Museum, All Russian Museum of Decorative Arts, Arkansas Museum of Fine Arts, Yale University Art Gallery, Crocker Art Museum and Private Collections.
The following supplies will be used for course demonstrations and objectives. A suggested item and/or vendor has been provided below for reference. Click the vendor name (in red) to be redirected to a page where you can find the item. The quantities needed for each item are listed first. If ordering, please be aware that some items may come in larger quantities than needed for this class. We recommend not opening an item's packaging until the day of the workshop. Student participation during or in-between class sessions is strongly encouraged but not required - observers are welcome.
Raw materials: (sterling can be substituted for copper, other than the tubing and corresponding 18g hinge wire):
A soldering setup:
1 x fireproof torch area - steel baking sheet will work (Amazon)
1 x Solderite™ pad or fire bricks (Rio Grande)
1 x compressed charcoal block - optional (Rio Grande)
1 x torch - any jewelers torch will work (Rio Grande)
1 x #0 or #1 torch tip - if getting Silversmith (Rio Grande)
1 x soldering tweezers (Rio Grande)
1 x soldering pick (Rio Grande)
1 x paste flux (Rio Grande)
1 x copper tongs - for pickle (Rio Grande)
silver solder - hard, medium, easy (Rio Grande)
pickle - for non-ferrous metals (Rio Grande)
crock pot or tempered glass container with lid - for pickle (Amazon)
tempered glass container or sink - for quenching and rinsing
small brush - for flux
Hand tools:
1 x 3rd arm (Rio Grande)
1 x bench pin (Rio Grande)
1 x jewelers saw (Rio Grande)
1 x pack #4/0 saw blades (Rio Grande)
1 x planishing hammer (Rio Grande)
1 x riveting hammer (Rio Grande)
1 x rawhide or plastic mallet (Rio Grande)
1 x ring mandrel or dowel rod (Rio Grande)
1 x needle and round nose pliers (Rio Grande and Rio Grande)
1 x half round forming pliers (Rio Grande)
1 x flush cutters (Rio Grande)
1 x parallel pliers - optional but recommended (Rio Grande)
1 x bastard cut file (Home Depot)
1 x flat and half round and round needle files (Rio Grande)
1 x dividers (Rio Grande)
1 x steel block or steel surface (Rio Grande)
1 x center punch (Rio Grande) 
1 x 

scibe

 (Rio Grande)
1 x brass brush (Rio Grande)
1 x acrylic sheet - for volume w/o a press - optional (Rio Grande)
1 x skip tooth saw blade - to cut acrylic - optional (Rio Grande)
1 x tube cutting jig or miter vise - optional but useful (Rio Grande)
1 x rotary tool - to pierce acrylic or designs - optional (Rio Grande)
1 x particulate dust mask
1 x eye protection
drill bits - to drill acrylic or pierce designs - optional (Rio Grande)
sand paper strips - 350 to 600 grits (Amazon)
old tooth brush
green scrubby pad
ajax/bar keepers friend/pumice based cleaner
yellow ocher or water based white out
wooden dapping block or sand bag - for doming - optional
ruler