Kinetics and Color
This class is specially designed for makers who want to take a mixed media approach in their making process and will emphasize working with Argentium silver and polymer clay. Through the making of veneers that employ a variety of approaches for pattern making, students will combine the rich colors of polymer with fused-formed and soldered Argentium to create jewelry pieces that twist, pivot, swing, drape, or otherwise move. Bonnie and Paulette will partner their expertise to illustrate the points of intersection between these two mediums and will address how to make lasting, well-designed jewelry. Class time will balance daily lectures, demonstrations, samples, and ample studio time in which to focus on projects. Address the puzzle of combining unlike materials and incorporate color with technical fabrication into your design!
Special materials will be provided to each student for the workshop. Please read the Materials and Tools description.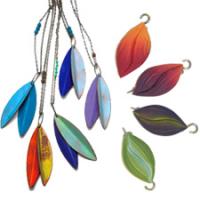 Paulette Werger is a metalsmith and teacher from Lebanon, New Hampshire. She works in a variety of materials including high karat gold, platinum, precious stones, sterling silver, and pewter. Her work is exhibited and sold both nationally and internationally through museums and galleries. She has offered workshops on a number of topics, including conquering the fear of gold, pewtersmithing, keum-boo, surface embellishment, and Ashante casting.
Paulette currently serves as a board member for the Society of Arts and Crafts in Boston, Massachusetts, and formerly for the Society of North American Goldsmiths. She works at her cooperative studio, Metalpeople East, which supports four metalsmiths with a common use of tools and space.
Bonnie Bishoff has worked collaboratively with her artistic partner and husband J. M. Syron since 1987. Starting as furniture makers, they made work that incorporated large panels of polymer veneers for 28 years. Gradually they shifted their focus to explore jewelry and mixed media pieces.They tend to work in series and on several fronts at once. The focus of their jewelry has been creating metal armatures, textured and oxidized metal surfaces, and polymer marquetry surface designs. In addition they have been exploring a series of wall panels or "paintings" in polymer veneers and wire armatured sculptures.
They have exhibited widely in galleries and fine craft shows including the Smithsonian and the Philadelphia Museum of Art. Museum exhibitions include the Peabody Essex, The Museum of Art and Design, NY and the permanent collection of the Racine Art Museum. Their materials include veneers of polymer clay, silver, bronze, copper, and wood. They aim to create work that projects an expansive notion of art and creative pursuit to be shared by the wearer with the world.
There is an estimated $75 - $110 materials fee for this workshop.
$75 is payable upon registration and covers the cost of polymer clay, 10 gauge and 18 gauge wire, translucent liquid sculpey, black Apoxie Sculpt, polyblade, X-acto, and various other miscellaneous materials necessary for the Polymer portion of the workshop. 

An additional ~$55 is payable directly Paulette during the workshop. Students can purchase Argentium silver wire, beads, and pearls as needed for projects. Students can elect to bring their own Argentium as well. Please contact us if you have any questions. We're happy to help!
Students should bring
Available from online, Michaels, Joann Fabrics, Blick, Munroecraft.com:
pasta machine with crank handle and clamp for table - REQUIRED

small cutting surface/mat such as a plastic cutting board

acrylic brayer or acrylic roller

burnishing tool such as a bone folding tool, wooden "thumb" clay sculpting tool, spoon or doorknob

small inexpensive paint brush for liquid sculpey application

waxed paper

optional: small shape cutters for clay or culinary use

eye magnifcation and protection

any other jewelry tools you enjoy using in your studio practice