Jewelry Focus: Building Big by Starting Small
Come join us in the studio to put your Jewelry 1 & 2 skills to work making jewelry! The class will focus on the practical application of skills acquired through Jewelry 2 level classes, with an emphasis on producing small-scale jewelry pieces that can be completed in a one to two lesson time frame.  The first several weeks' projects will include earrings that incorporate elements (links / hinged pieces / stones) that would also lend themselves to extended versions of the elements – for example as a bracelet or necklace; a stud earring might be a great study for a brooch or larger piece. Both hot and cold connections will be incorporated into the project line-up, and necessarily will include simple clasps/closures, and earring findings (post vs. earwire). 
We will draw on the skills currently in our arsenal, including stone setting, soldering, riveting, small-scale forging, and piercing, to develop comfort and proficiency.  We will also learn the benefits of a "production approach", to better inform our future design and planning efforts. For the most part, the emphasis of the class is on honing skills acquired through the Jewelry 2 level, so the main "new skill" will be practical proficiency.   
Students can expect to create 4 to 5 pairs of earrings, and a larger piece – either bracelet, necklace, or brooch – that they will design, extrapolating from the small-project models they produce in the first weeks.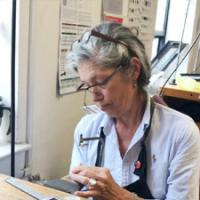 Emily joined the Studiomate Artists' community at Metalwerx in 2015. Since then, she has been enjoying the Metalwerx community, pursuing her quest for skill acquisition in techniques involving metal fabrication of jewelry and small-scale functional objects. Her favorite metalworking techniques include fusing, soldering, and texturing; lately she has been focused on developing skills in the art of filigree. As a life-long rock-hound, she also has a fascination with gems, pearls, and other materials' potential as adornment for pieces made using classic silversmithing techniques.
In 2020, Emily joined the Virtual Course Team at Metalwerx, and continues to host many of Metalwerx' virtual classes, working with an incredible line-up of instructors and dedicated students from around the globe. When it comes to Metalwerx, Emily considers herself to always be the luckiest person in the room!
Visit Emily's Instagram (@emilyglimp) to view her work and processes!
There is a $85 materials fee for this class that is payable upon registration. The materials kit includes large piece of sterling silver heavy-wall tubing, cubic zirconium, sterling silver sheet metal (24g and 20g), drill bit, bud bur, setting bur, fine silver bezel wire, sterling silver wire (18g and 20g), Argentium wire (20g), bronze wire (20g), bronze sheet metal (24g), cabochon stones, and various other items needed to complete projects.
Students should bring
closed-toe shoes - required for all Metalwerx classes

ultra-fine point sharpie marker - black (such as)

notebook/pencil/eraser/ruler (preferably metal metric ruler)

soft toothbrush for use on metal - used is fine

container for tools/materials/projects - shoebox size

personal safety glasses if you prefer - Metalwerx has these

comfortable clothing from natural fibers