Jewelry 2
The primary goal of this class is to provide students with the opportunity and guidance to elevate their foundational skills to new heights! This will be a fast-paced class focused on new complexities in fabricating with metal.  
Projects in the first weeks of the course will focus on the development of soldering proficiency, as students work in brass to build hollow-form rings, and beads or small charms; these projects will also highlight the importance of strong hand skills (sawing, drilling, filing), giving students the opportunity to strengthen these skills and observe their impact on the overall fabricating process. We will also use every opportunity to observe the impact of "scale" - thickness of material, size of project, etc. - on each stage of the process, learning to make better-informed choices in our fabrication approach. 
Several stone-setting techniques will be explored including bezel, tube, prong, and tab settings; finishing techniques and patina treatments will also be explored. In the final weeks of the course, students will choose the project which most inspired them, to reproduce in Sterling Silver, developing a work plan and then executing and building upon it. 
Come join us in the studio for this Jewelry 2 journey, raise your skills to new levels, and prepare to be amazed with what you can produce!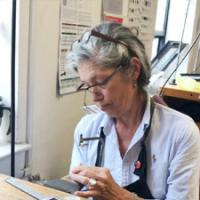 Emily joined the Studiomate Artists' community at Metalwerx in 2015. Since then, she has been enjoying the Metalwerx community, pursuing her quest for skill acquisition in techniques involving metal fabrication of jewelry and small-scale functional objects. Her favorite metalworking techniques include fusing, soldering, and texturing; lately she has been focused on developing skills in the art of filigree. As a life-long rock-hound, she also has a fascination with gems, pearls, and other materials' potential as adornment for pieces made using classic silversmithing techniques.
In 2020, Emily joined the Virtual Course Team at Metalwerx, and continues to host many of Metalwerx' virtual classes, working with an incredible line-up of instructors and dedicated students from around the globe. When it comes to Metalwerx, Emily considers herself to always be the luckiest person in the room!
Visit Emily's Instagram (@emilyglimp) to view her work and processes!
There is a $95 materials fee for this class that is payable upon registration. The materials kit includes large brass sheet, sterling silver heavy wall tubing, substantial sterling silver sheet, faceted stones (CZs), setting bur, solder, titanium soldering pick, Solderite pad, fine silver bezel wire, sterling silver wire in multiple gauges, as well as cabochon stones, and various other items needed to complete projects.
Students should bring
closed-toe shoes - required for all Metalwerx classes

ultra-fine point sharpie marker - black (such as)

notebook/pencil/eraser/ruler (preferably metal metric ruler)

soft toothbrush for use on metal - used is fine

container for tools/materials/projects - shoebox size

personal safety glasses if you prefer - Metalwerx has these

comfortable clothing from natural fibers