Jewelry 1
Develop a wide range of fundamental jewelry-making skills, proficient studio habits, and an appreciation of quality craftsmanship. In this beginning-level course, students will learn to measure, cut and pierce with a jeweler's saw, file and sand to shape and refine, texture with hammers, solder, polish and finish metals. Students will put these skills to use by fabricating a ring with a set cabochon stone, making a cuff bracelet, and designing and making other pieces of their choosing, such as earrings or a pendant. Come with a desire to learn and leave with tons of new skills and at least 2 pieces of jewelery!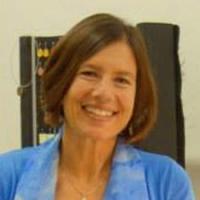 "Growing up, I always was mesmerized by sparkling gemstones and metals and I often incorporate something illuminating into my designs. Whether or not I intricately plan a jewelry piece in advance of producing it or just spontaneously fabricate one as I go along, the result is inevitably something that is unique with a contemporary flair that complements, rather than overwhelms, a wearer. When designing jewelry or other metal work, I always think about whether I would wear it, use it, and/or display it. Anyone who knows me sees a reflection of me in what I design.
I produce fine contemporary jewelry and other metal designs primarily in the precious metals of gold, silver, palladium, and platinum. These are often further defined with the addition of texturing, gemstones and other unique lapidary, or resin inlay. I also manufacture photo-etched metal jewelry and etched cover plates that are attached to journals or are framed--wedding invitations, bar and bat mitzvah invitations, baby announcements, and the like.
In addition to participating in art shows, sales, and doing commission work, I love providing instruction in jewelry design and metal fabrication. My work can be seen and purchased at galleries and stores, as well as in my own online store. Designing and fabricating engagement and wedding bands and other jewelry, often with people's stones, is particularly meaningful to me."
-Wendy Jo
There is a $45 materials fee for this course, which is payable upon registration. Materials include sterling silver sheet metal and wire, copper and brass, saw blades, and 2 cabochon stones, and other various materials to complete the processes and projects for this course.
Metalwerx has all of the tools and equipment necessary for these processes for use during the class. If students have any of their own metalworking tools, they are welcome to bring them.
Students should bring
A small box (tackle box shoe box or similar size) for transporting tools and projects
Sketchbook 
An ultra-fine tip sharpie marker
pen or pencil
Hair tie for anyone with shoulder length hair or longer
Closed toed shoes