Isn't it Electric? Introduction to Electroforming
Electroforming is an electro-chemical plating process in which metal is deposited onto a model (object) or "matrix" that has been made electrically conductive. In this demo-focused virtual workshop, students will learn the step-by-step procedures for utilizing this technique, including preparing models for the electroforming bath, how to set up their own bath, the plating process, and how to finish the object once it is metal.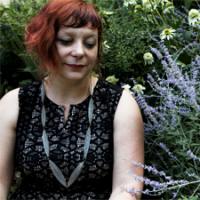 April Wood is a metalsmith and jeweler living and working in Baltimore, MD. She is a co-founder of the Baltimore Jewelry Center, a metals + jewelry community education space in Baltimore city, where she worked as Studio and Program Manager, Exhibitions Director, and an Instructor. She received her BFA in Studio Art, concentrating in Metals/Jewelry, from Texas State University – San Marcos and her MFA from Towson University. She has taught at the Maryland Institute College of Art, the Corcoran College of Art and Design, Penland School of Crafts, Idyllwild Arts Academy, and Towson University. Her work has been featured in Metalsmith, Surface Design Journal, and Sculpture. She exhibits her work nationally and internationally, including a solo exhibition at the Austin Museum of Art and SIERAAD International Art Jewelry Fair in Amsterdam.
The following supplies will be used for course demonstrations and objectives. A suggested item and/or vendor has been provided below for reference. Click the vendor name to be redirected to a page where you can find the item. The quantities needed for each item are listed first. If ordering, please be aware that some items may come in larger quantities than needed for this class. We recommend not opening an item's packaging until the day of the workshop. Student participation during or in-between class sessions is welcomed but not required - observers are welcome.
Electroforming supplies:
Hand tools:
Other/Miscellaneous items: