Introduction to Jewelry Making
In two, fast-paced days, you will learn fundamental tools and skills essential to our goal of creating a sterling silver ring or pendant with a bezel set stone.
We will first create a series of samples to develop a working knowledge of a jeweler's tools and basic hand skills for making in metal. These skills include sawing, filing, texturing, soldering, and ways to achieve a desired finish on metal. We will then apply these newly developed skills to fabricate a textured band ring or pendant, which will be completed with a bezel-set cabochon stone.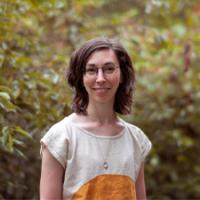 Forever fascinated by boxes and lockets, Kaitlyn has been fabricating these and other objects since starting her metalsmithing career in 2006. Using traditional metalsmithing techniques, she creates objects that encourage her to share overwhelming emotion, especially when the right words cannot be found.

Kaitlyn earned her jewelry and metalsmithing degrees from Millersville University of Pennsylvania and the University of Massachusetts Dartmouth. Through the years she has worked as a gallery manager, adjunct faculty, and workshop instructor at various institutions. She is currently the Program Coordinator at Metalwerx where she also teaches.
View Kaitlyn's work at www.kaitlynevans.com.
There is a $30 materials fee for this workshop that is payable upon registration. The materials kit includes sterling silver sheet metal (20g), sterling silver rectangular rod (4mm x 1.5mm), copper sheet metal (20g), copper sheet metal (18g), fine silver bezel wire, silicone polishing wheels, screw mandrel, cabochon stone (in the 10mm scale), and other miscellaneous materials needed to complete class project.
Students should bring
sketchbook, pen / pencil

reading glasses - if needed

closed toe shoes - required in Metalwerx studio

Sharpie fine point marker