Introduction to Jewelry Making
This condensed exploration of metalworking fundamentals is perfect for those who have always wanted to learn traditional jewelry making skills but never had the time. Students will develop hand skills and dexterity, good studio habits, an appreciation for quality craftsmanship, as well as essential fabrication techniques by designing and producing one-of-a-kind jewelry.
Over the course of just two days, students will learn to cut and pierce out shapes from metal sheet using a jeweler's saw, solder (connect) and anneal (soften) metal with a torch, texture surfaces with hammers, and bezel-set cabochon stones. Some time will be spent practicing on sample pieces, as well as applying these skills to making a textured ring and a stone-set pendant.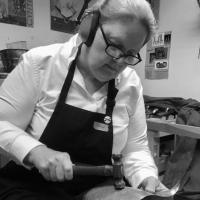 Diane received her BFA from the University of Massachusetts, Amherst, in 1983. She has continued to expand her skills and artistic horizons in her studio in Woburn, Massachusetts, and also in advanced jewelry and silversmithing classes at the DeCordova Museum School in Lincoln, Massachusetts. Diane favorite techniques include fabricating mokume, pave settings, raising, hot twisting, and soldered applique.
There is a $65 materials fee for this workshop that is payable upon registration. The materials kit covers copper, sterling silver, solder, bezel wire, cabochon stones, saw blades, and other miscellaneous supplies to complete class projects.
Students should bring
ultra fine-point Sharpie permanent marker

sketchbook, pen, and pencil

reading glasses - if needed

rubber band/hair elastic if you have long hair

closed toe shoes - required in Metalwerx studio