Introduction to Hand Engraving
Hand engraving is a metalsmithing process that requires patience and awareness. In this 3-day workshop, students will be guided through the basics of this intricate technique and the effort it demands. Processes such as tool sharpening, image making/mark development, design transferring, and general surface finishing techniques will be covered through a variety of samples and exercises. In this introductory course, we will explore traditional engraving tools and techniques while looking at their applications within a contemporary practice. Both gestural mark-making and precision drawing can be incredibly useful methodologies for the engraving process. Come gain an appreciation for intimately engaging with your work through repetition of motion and intense focus!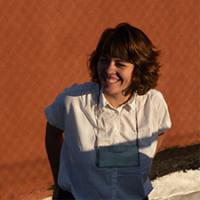 Valerie James is an artist based in Philadelphia, Pennsylvania. She received her BFA in 2016 from Tyler School of Art and an MFA in Jewelry and Metalsmithing from Rhode Island School of Design (RISD) in 2019. Through the format of jewelry, Valerie translates the gesture and psychology of traversed spaces. Using various techniques such as engraving, she conveys the mobility of jewelry, and the agency it instills both in and out of the studio. Valerie currently teaches at Tyler School of Art and works as a metals technician at Independent Casting Inc. while maintaining her studio practice in Fairmount, Philadelphia.
There is a $85 materials fee for this workshop that is payable upon registration. The materials kit covers leather sandbag, copper sheet (20g), sanding sponge assortment, GRS HSS point graver 120°, GRS graduated length QC graver handle, standard QC tool holders, saw blades, and other miscellaneous supplies to complete class projects.
Students should bring
any of their own metal that they may wish to use in addition to what they get in their kit

closed toed shoes - required in the Metalwerx studio

any of their own favorite tools - Metalwerx is equipped with communal studio tools

ball point pen / pencil and notepad for notes and sketching

lunch