Infinite Fields in Enamel
Enamel, that wonderfully magical glass powder we know and love, has infinite transformative potential in our everyday jewelry creations. With its inherent qualities to mimic sand, glass, or even the peel of an orange, blending ability to create color tonalities, and its ease of use with sifting, stencil, or even ink, enamel provides an opportunity to compliment natural and manmade materials in a plethora of ways.
In this 2-day weekend workshop we will work through a series of exercises to identify potential narratives that can be pursued using enameled elements (new and old alike), along with a multitude of other components including fabricated metal parts, found objects from nature, or objects of the man-made variety - with the goal of constructing bespoke jewelry pieces, unique to each students personal style and artistic aesthetic. The class will work to incorporate textured metal, found materials, stones, and more, along with with enamel, to complete one-of-a-kind compositions!
Infinite Fields will include instruction on how to use 80 mesh enamels, enamel overglazes, firing glass beads into enamel, firing temperatures for enamels, prong settings, jump-ring creation, and how to create other findings to complete your jewelry pieces.
Get ready to take your enamel bits and bobs to a whole new level in this intensive workshop!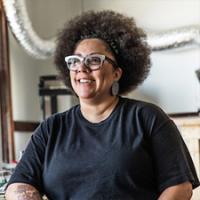 Tanya Crane is a Southern California native who holds a degree in Metal from the State University of New York at New Paltz, and a degree in Art/Metals from the University of Wisconsin-Madison. She seeks adventure and experience, which has led to a lifetime of moving from one metropolitan city to another. These experiences have informed her work offering a diverse range of materials, which she has integrated into her jewelry and sculptures that speak more to her research about identity and race, than to the material itself. Crane's work has been on view most recently at the Fuller Craft Museum in Brockton, Massachusetts and the National Ornamental Metal Museum in Nashville, Tennessee.
There is an $60 materials fee for this workshop payable upon registration. The materials kit cost covers powder glass enamel (1010, 1319, 1415, 1830, 1750, 1540, 1710, 1520, 2325, 2840, 2220), ferro sunshine enamels (intense black, turquise, saffron), non-dry mixing and painting medium, clear balsam of capaiba, anise oil, paint brush cleaner, round sterling silver wire (20g, 18g, 16g, square sterling silver wire (18g), copper sheet (24g), rubber tip shaper pens, pipettes, and the use of various other studio materials and consumables needed to complete project objectives.
Students should bring
additional silver or copper wire and sheet - kit has metal

previously enamel piece you might want to incorporate

old jewelry you want to dismantle to use differently

6"x6" glossy ceramic tile - any hardware store

palette knife - any art store

quill pen holder and various nibs (click HERE for example)

glass beads size 11 or smaller

stones, natural items, sentimental items - to use / set

notebook or sketchpad

pen or pencil

closed-toe shoes - required in the Metalwerx studio

lunch - Metalwerx has a fridge, toaster oven, and microwave