The Hydraulic Press: Marriage of Pancake and Impression Dies
In this workshop, learn the safe and effective use of a hydraulic press, as well as the best way to use pancake and impression dies, in tandem with a press, to create intriguing reliefs ready to be turned into or added to your jewelry.
The 20-ton hydraulic press is a versatile piece of equipment used in forming of metal for jewelry scale projects. Pancake dies and impression dies can be used in the press to help make finished pieces for pendants, earring, rings, and components like bracelet links, bales, and charms. Pancake dies are used to cut the same shape many times by pressing hardened metal inside the die using the hydraulic press. Impression dies are detailed patterns formed in hardened steel on which annealed metal is placed and pressed, leaving an impression of the pattern on the annealed metal. Some impression dies are made from hubs used in the jewelry industry in the 19th and early 20th century and have quite detailed designs.
This class is sponsored by Rio Grande and a limited number of scholarships are available. Apply now!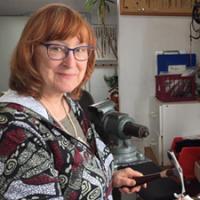 There is a $57 materials fee for this course payable upon registration. Kit fee covers substantial sheet of fine silver, large sheets of copper (18g, 20g), sawblades, bristle discs, rotary mandrel, 95 durometer sheet (1/8", 1/16").
Students should bring
16g copper sheet, if students wish to press deeper forms

sawframe, sandpaper, and needle files - if they do not wish to share communal tools

studio apron

studio towel

notebook or sketchpad

pen or pencil

closed-toe shoes - required in the Metalwerx studio

lunch - Metalwerx has a fridge, toaster oven, and microwave