The Hydraulic Press: Basics and Beyond
The hydraulic press provides limitless opportunities for creating exciting forms and textures. Discover how to use found objects to emboss metal, as well as how to make your own embossing tools and silhouette dies. A range of Bonny Doon tools will be covered and explained during the class - including anticlastic, synclastic, free-form, and 3 inch deep draw tools. Mastering these tools and techniques will allow students to produce bracelets, rings, earrings, beads, lidded containers, and vessels. This class will demystify urethanes and dies while providing students with hydraulic press confidence. 
This course will be process-oriented, rather than project-based, and examples of various techniques will be heavily utilized throughout the workshop. Demonstrations will alternate with time for hands-on practice. Participants will be encouraged to practice each technique after the demonstration, while also pursuing their individual design interests. This workshop is appropriate for students with basic metalsmithing skills as well as professionals.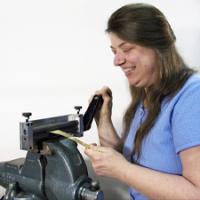 Whether using hammers and stakes, or hydraulic press tools, Cynthia's sculptural jewelry and hollowware shows her focus on exploring the fluidity with which metal can be moved, formed, and joined.
Cynthia Eid co-authored the book Creative Metal Forming, with Betty Helen Longhi, published in 2013 by Tim McCreight's Brynmorgen Press. In his foreword for the book, Michael Good says the authors "have succeeded in assembling the first comprehensive textbook on synclastic and anticlastic forming." (More about the book available at www.creativemetalforming.com.)
Cynthia and Betty developed a set of anticlastic stakes, and Eid also works with Knew Concepts and Bonny Doon to help make tools for jewelers and metalsmiths. Lee Marshall has dubbed Cynthia Eid "Godmother of the Knew Concept Saws" since it was her idea for him to produce these saws for jewelers.
Excited about working in sterling silver without the problem of firescale, Cynthia has been working with Argentium Silver since 1999. After meeting Peter Johns (the inventor of Argentium Silver) in 2003, Eid has participated in AS's development. Argentium International, Ltd recognizes her as a Pioneer.
Cynthia Eid's metalwork has won awards for creativity and design, been featured in many publications, and been exhibited internationally. With a BS in Art Education and MFA in Jewelry, Design, and Silversmithing, she has previously worked as a bench jeweler for fine goldsmiths, a model-maker in a gold jewelry factory, and on private commissions. Her work is in museums in the US and UK. Currently an independent metalsmith and educator, she teaches weekly classes at Metalwerx in Massachusetts, and workshops and short courses in the US, Canada, Europe, and Australia.
There will be an extensive metal, tools, and materials kit available for purchase from the instructor. It is estimated to cost $65 and includes base metal to practice each of the techniques shown during class, as well as materials and tools to make embossing and silhouette dies. If students wish to work in silver, they should bring their own. Kit include:
Copper sheet:
Nugold or bronze sheet: (or red brass, Jewelers' bronze, or Merlin's gold----these alloys that are 85-90% copper and 10-15% zinc have many names)  This is a good practice metal, since it works similarly to sterling silver.
28 gauge 6" x 12"
24 gauge 6" x 12"
20 gauge  6" x 6"
Yellow brass: wire in various gauges for making embossing tools.
Silver: students may bring Argentium Sterling or traditional sterling silver to work in if they wish to work in silver.  Fine silver can be good for small jewelry or if it is to be enameled. Silver not included in kit.
Materials for dies:
One-18 gauge Brass 3" x 3" for face plate for silhouette die (or to make embossing die). Brass is easier to saw accurately than plastic, and makes it easier to make a reversible die that will last longer than a plastic die.
#1 saw blades for 18 ga. Brass face plates or embossing dies
One Acrylic Sheet  3" x 3" x ¼" for silhouette die.
Skip-tooth saw blades (#2, 3, or 4) for acrylic (cuts faster and smoother than spiral)
Also available for purchase at workshop:
A Bonny Doon Hydraulic Press will be available for sale at the end of the workshop.
Tool steel for blanking die (cutting die) if you wish to make one
3/0  saw blades for blanking/cutting die if you wish to make one
Burs for carving plastic for embossing dies (coarse burs that cut plastic quickly & easily)
Drill bit and pegs so that dies will "register"
Limited amounts of extra metal and supplies​
Delrin dome for making a domed embossing tool
Thick Polycarbonate sheet—to make embossing die(s) by carving (less prone to fracture than acrylic)
Students should bring
Many of these items can be found in the Metalwerx studio, but if students prefer to use their own tools, they can bring any of the following:
ruler, paper, pencil, fine tipped permanent marker (eg. Sharpie)
Abrasive paper and sanding sticks
Files, especially a #2 cut half-round
(Hand held) metal shears, such as Joyce Chen
Jeweler's saw, saw blades, lubricant/wax
Safety glasses
Apron
Rubber bands or barrettes for keep long hair away from flames and machinery
Camera
Wire cutter
Flex shaft accessories, such as sanding discs, abrasive wheels, grinding stones, etc.
Coarse steel flex shaft burs for carving plexi and delrin (making dies)
Can be handy: tracing paper, graph paper, carbon paper
Roller printing materials
Any of your favorite tools that you typically use a lot