Hot and Cold Wire Twisting
This hands-on workshop is about manipulating wire and creating textural wire components. Using hand drills and other tools for cold twisting, students will earn how to twist wire into interesting configurations that can be used as bracelets, necklaces or elements in other pieces. Hot twisted pieces will reconfigure ¼" copper rods into the unique twists often seen in blacksmithing.
Students will learn a plethora of wire twisting techniques using both round, half round, and square wires. The ¼" round copper rods will first be reconfigured in the rolling mill and then hot twisted using a torch, vise grips, and a vise. Students can expect to take away a number of samples and a finished hot twisted copper bracelet…or two.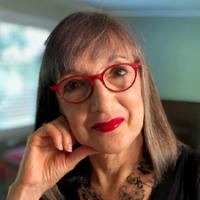 Munya is a metalsmith and educator, living in the living in Hudson Valley. Born in Faribault, Minnesota, she received a BFA from Drake University, an MA from San Diego State University, and an MFA from California State University, Fullerton. She was artist-in-residence at the Oregon College of Art and Craft and has taught at the University of Wisconsin, Madison; Southwest Texas State University, San Marcos, Texas; Penland School of Crafts; and the Massachusetts College of Art, just to name a few.
Munya employs skills generally associated with fibers and textiles in the making of original jewelry and sculpture, and she is regarded by many as an authority on combining metal and fiber techniques. Photographs of her work have appeared in Metalsmith, Niche, American Craft, and Arline Fisch's Textile Techniques in Metal. She is an award-winning metalsmith who has exhibited nationally and internationally for 45 years. Her exquisite metalwork is in private and public collections through the United States and Europe.
In Munya's own words:
The evolution of one's work is like a memoir in progress. Narrative work coexists with functional work and both say something about the maker. The work may depict one's childhood dreams, a circutious journey through life, or serve to enhance a ceremony. Whatever the statement or purpose, the work is genuine and revealing.
My work is represented by both sculptural and functional objects. The sculptures portray aspects of my life from childhood to adulthood. The pieces are about dreams, pain, surprises and realizations. Though the imagery ranges from non-representational to figurative, all the sculpture, in one way or another, documents my memories. The work is both evocative amd cathartic, and serves as my unwritten memoir.
The Jewish ceremonial pieces evolved out of a desire to create beautiful objects for weekly and yearly ritual celebrations. I am intrigued by the history of these objects as well as the challenge to design pieces for use in a contemporary setting. Most of the Judaica contains woven elements which create a uniquely rich, textural surface. These surfaces, combined with clean simple forms, express my design sensibilities and my attempts to make ritual objects that elevate the ceremony with which they are associated.
There is a $25 materials fee for this course payable upon registration. Kit fee covers several gauges of copper round wire, half round wire, square wire, and flat rectangular wire.