Hinged Pendants: Coping Mechanisms for the Profoundly Unhinged
In this 3-day in-person workshop students will learn to make a prong setting for a tablet style stone in 22k gold and sterling silver, with the guidance of jeweler (and humor) extraordinaire, Alex Boyd. The tablet setting will be attached via hinge to a bezel set cabochon with a hidden bail. Students will learn how to fabricate with a mix of high karat gold and sterling silver, how to make small, precise and durable hinges, how to build a setting with multiple prongs soldered all at once, as well as many other tips and tricks.
Alex will provide kits with many different shapes and kinds of stones so every student will leave with a unique piece of jewelry. Students are also welcome to bring their own cabochon style stones should they desire -- faceted stones will not be covered during this workshop.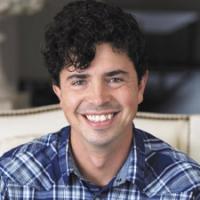 When Alex Boyd was a young boy he stole an enchanted ring from a powerful bruja. That night his slumber was disturbed by a tapping at his window. When he slid the window open a huge raven rushed in, flew around the room and perched on his bookshelf. "I know what you have taken from me," the raven cawed. "I don't know what you're talking about," Alex lied, hiding his bejeweled finger behind his back. "No matter. It is your problem now. The wearer of that ring is indentured to create more talismans of power, either for 1000 years or until he makes something so sublime, so perfect, so beautiful that the spell is broken and he is freed." "1000 years it is," Alex said as he thrust the raven out the window and slammed it shut behind her. He has been making jewelry ever since.
Visit www.alexboydstudio.com to view Alex's work.
There is a $45 materials fee for this workshop payable upon registration. Kit includes sawblades (2/0, 6/0), titanium soldering pick, sandpaper (180, 320, 600 grit), radial bristle disc assortment, drill bits (0.6mm, 1.0mm), krause bur (1.0mm), 18g copper sheet, flat edge polisher wheel, and pin vise.
Additionally, students will the ability to purchase a metal and stone kit directly from Alex during the workshop. Kits are estimated to cost around $100-$200 depending on how much silver and/or gold they get, and what size and type of stones you pick out.
Students should bring
optivisors or magnification - Metalwerx has these but you may wish to bring your own

closed-toed shoes - required in Metalwerx studio

lunch and/or snack - Metalwerx has a fridge, microwave, and toaster oven

any of your own favorite tools - labeled with your name