Gold Applications Overview
This information focused virtual class will act as an introduction and overview of all the ways that gold, and other metals, can be applied or inlaid into precious and non-precious metals. Techniques from industrial to small studio operations will be introduced and explained. These include cold inlay methods, pressure welding, flame spraying, resist plating, in-depth keum-boo, making doubleé, and a very thorough examination of gold painting ( applying molten gold to copper and other metals). Control factors for design and pattern making are covered. The class is lecture based, with discussion, question, and answer time. This experience is based on Charles' research and papers presented at the Santa Fe Symposium.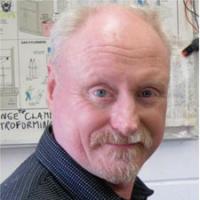 Charles Lewton-Brain studied and worked in Europe and North America. He lectures and publishes internationally on his research into rapid manipulation of metal and it's surface for artistic and manufacturing purposes. He invented Fold-Forming, an internationally reconized new approach to working sheet metals. Head of the Jewellery/Metals Program at the Alberta College of Art and Design, he writes, exhibits and works in his studio. He is President of the Canadian Crafts Federation. He thinks of himself as an artist who works primarily in the context of body ornament. He is a founding partner in the world's largest free educational web site for jewelers, ganoksin.com and has over 700 pages of his writing there.
This course will be information heavy in nature. Students do not need to have or purchase any materials in preparations for class. The instructor will thoroughly cover any materials covered in class.