Geo Bezel Ring: Rose Gold Edition
In this master class, we will make geometric bezels and build an architectural, two-tone, bezel set ring using sterling silver and beautiful rose gold. Hone your soldering skills as we problem solve for complex soldering setups to build airlines into our bezel structures. You'll miter and bend gold to form the bezels; you'll have an introduction into finicky rose gold soldering, and you'll experience euphoria as you successfully set geometric stones with scary points!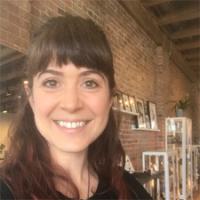 Baleigh has tinkered with craft and jewelry since she was a wee adolescent. After pursuing a BFA in Creative Writing she realized she had made a terrible mistake on a very expensive education because what she wanted to do was work with her hands. She then enrolled in the North Bennet Street School's Jewelry Making & Repair program in Bahston, MA and everything was good again. Baleigh was technically trained to craft her own tools, fabricate intricate pieces from scratch, handset diamonds & precious gems and repair fine jewelry.
Baleigh is a process jeweler and gets turned on from the problem solving involved in designing intricate pieces and setting weird stones. Her work employs clean lines, industrial elements & graceful geometry that she finds inspiring from everyday design. Baleigh works out of her home studio that she shares with her husband Alex, along with their three adorable floofs.
There is an estimated $100-$150 materials kit fee for this course, which is payable directly to the instructor in class. The kit will include all sterling and rose gold metal needed for workshop objectives, as well as a beautiful gemstone. Students will have the ability to select a geometric stone of their choosing, which Baleigh will provide (pricing for stones will fluctuate depending on size and type).
Students should bring
any of their own metal that they may wish to use in addition to what they get in their kit

closed toed shoes - required in the Metalwerx studio

any of their own favorite tools - Metalwerx is equipped with communal studio tools

pen/pencil and notepad for notes and sketching

lunch