Fusing Gold and other Metals to Perforated Steel Sheet and Wire
Mild steel is a fabulous metal for jewelry, as it is lightweight, malleable, and affordable. When incorporated with fused gold and other metals, perforated patterns, and wire, your mixed metals creations are sure to pack a visual punch!
In this live, virtual workshop, students will learn the basics of working with mild steel, from cutting, texturing, forming, and soldering it. Fusing high karat gold and other metals to steel to add drama and excitement will also be covered. Then the class kicks things up a notch through fabricating and fusing alternative forms of steel, including steel wire and perforated steel in a range of patterns, from squares, circles, and ovals to honeycombs and more.
In addition, the instructor will cover how to finish the edges of perforated steel for comfort and a clean look, how to make striking bezels from perforated steel, how to layer wire, perforated steel, and steel sheet, as well as how to seal these jewelry pieces.
There will be an Open Studio Hour at 6:00PM Eastern Time each class day, 9/6/22 - 9/9/22, for advice, extra discussion, and troubleshooting.
Please read the Materials & Tools tab!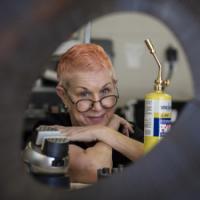 Bette Barnett has devoted her work since 2013 to exploring and experimenting with steel and gold. Bette began her jewelry career in 2010 and subsequently studied with the late Chris Nelson through his advanced workshops in fusing gold to steel. Since then Bette has perfected additional techniques and processes for steel, including Keum Boo on steel, fusing gold to iron wire, creating a variety of alloys for fusing to steel such as shibuichi and shakudo, etching steel and fusing gold to non-traditional steel forms, such as screens and wires. In recognition of her work to further steel and fused gold, the Santa Fe Symposium has selected Bette to create a research paper on steel jewelry and present it during the 2022 Symposium Conference. She has also published articles on steel and gold jewelry in Lapidary Journal: Jewelry Artist.
Bette honed her instructor skills during her former career as a corporate communication consultant by providing extensive training services for some of the largest companies in the world. She continually uses feedback from student surveys and hosting studios to refine her workshop offerings.
Bette teaches private lessons (both virtually and live) in her San Diego studio and offers group lessons throughout the U.S.
A comprehensive list of supplies that will be used for course demonstrations and objectives can be found by clicking HERE. 
A $65 supply kit will be shipped out by the instructor to the default address listed on your Metalwerx account approximately one week prior to class (registrants after August 29th will not receive kits by the start date). Please inform us if you reside outside of the US, as your shipping cost will differ and may need to be expedited.
Unless you already own most of the items on the list, the kit is highly recommended, as you cannot order the prepped items reflected below through other vendors. Kit includes the following items:
6 pieces of perforated steel sheet in various patterns 4" x 8" 20-22g

2 pieces of steel sheet 4" x 8" 20 g

1 piece of copper sheet 2" x 4" 34g

Black annealed wire 10g 12"

Black annealed wire 16g 24"

Sample of Metal Wax for sealing

Brass scratch brush

3M mesh scrub pad

Cheese cloth

Handouts (Patterns for two class projects, course presentation handouts, and source sheets for purchasing materials and supplies)