Fabricating with Wax Wire
Learn the delicate art of wax wire working to build intricate rings or pendants. In this virtual class students will learn how to attach and build up designs using small wax components. Wax is a forgiving vessel that can be used in lieu of soldering complicated wire work together, making it the perfect course for students who have had issues soldering basket settings or would like to set odd or large gemstones into metal. Carving techniques can be incorporated into this workshop, though the emphasis will be placed on wax wire and sheet, allowing students to see the benefit of fabricating with wire versus carving down from a solid wax block.
Actually casting will not be covered during this course, though students are encouraged to ask about spruing as needed.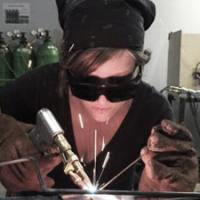 Deanna Pastel was born and raised in Cleveland, Ohio. In 2010 she received her BFA in Jewelry/Metals from Kent State University. Upon graduating, she was offered a position as a bench jeweler and trainer at Heather B. Moore Inc. in Cleveland, OH. This is where she began fine-tuning her skills in soldering gold, setting stones and hand stamping on silver and high end gold jewelry works.
In 2012 she landed in Austin, TX, and began her career as one of the main teachers and as the studio director/coordinator at Creative Side Jewelry Academy. She spent 2012-2017 developing the school's core curriculum, while working closely with other master artists and her students.
In 2018 she was granted an apprenticeship to spend two months working alongside artist Victoria Lansford doing macro chasing and repousse, and became a presence both artistically and professionally for the Society of North American Goldsmiths. For the past three years, she has expanded to teaching at multiple schools and colleges around the Austin and San Antonio area providing eclectic and diverse course offerings at all levels of experience. She also continues to work at her bench in her home studio doing commissions, custom and repair work, as well as her personal artworks.
The following supplies will be used for course demonstrations and objectives. A suggested item and/or vendor has been provided below for reference. Click the vendor name to be redirected to a page where you can view the item. The quantities needed for each item are listed first. If ordering, please be aware that some items may come in larger quantities than needed for this class. We recommend not opening an item's packaging until the day of the workshop. Student participation during or in-between class sessions is not required - observers are welcome.
Metal/raw materials:
1 x blue wax wire assortment (Rio Grande)

1 x wax sheet assortment (Rio Grande)

gemstones of students choice
Hand tools:
Other/miscellaneous materials:
hard work surface

fan and open window or ventilation system

safety glasses

pencil, Sharpie, notebook