Epoxy Surface Treatments: Slimy, Crusty, or Even Dusty
In this virtual workshop, the instructor will demonstrate how to use epoxy glue in unexpected and transformative ways. Epoxy is a perfect material for creating interesting surfaces on top of metal or on alternative materials like wood, found objects, or clay.
Demonstrations will cover how to encrust a piece in materials such as crushed stone, sand, or glitter, how to cover a surface with colors or patterns, and also how to make small castings with epoxy glue. The instructor uses epoxy glue in different ways for every one of the pieces that she creates and it is one of her favorite material because of its versatile and metamorphic properties.
For more information about virtual courses, visit our Virtual Course FAQ page. 
Please read the Materials & Tools tab!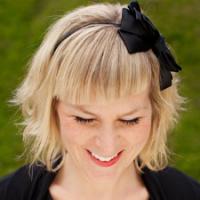 Märta Mattsson was born in Stockholm, Sweden in 1982. She received a Master degree from the Royal College of Art in London in 2010. She also received a Bachelor degree in jewellery art from HDK - Acadamy of Design and Crafts in Gothenburg and has been an exchange student at Hiko Mizuno College of Jewelry in Tokyo, Rhode Island School of Design in Providence and at Hawaii Pacific University. She has exhibited her work both nationally and internationally since 2006 in over 20 solo exhibitions and in many group exhibitions. Märta has given workshops and lectures around the theme of her work in countries like China, Belgium, Mexico, Thailand, USA, Sweden and Latvia and she is currently employed as a lecturer at HDK – Academy of Design and Crafts in the department for jewellery art. In 2016 Märta was awarded the prize Young Applied Artists 2016 in Sweden and her pieces can be found in prestigious Museum collections like MAD – Museum of Art and Design in New York and Nationalmuseum in Stockholm.
'My jewellery deals with the tension that lies between attraction and repulsion. I take seemingly inappropriate materials, making ordinary and familiar objects seem extraordinary and unfamiliar.' - Märta
Visit www.martamattsson.com to view Märta's work.
The following supplies will be used for course demonstrations and objectives. A suggested item and/or vendor has been provided below for reference. Click the vendor name (in red) to be redirected to a page where you can find the item. The quantities needed for each item are listed first. If ordering, please be aware that some items may come in larger quantities than needed for this class. We recommend not opening an item's packaging until the day of the workshop. Student participation during or in-between class sessions is strongly encouraged but not required - observers are welcome.
Metal/raw materials:
Other/miscellaneous items:
pack of disposable gloves
tooth picks
respiratory mask - reusable or disposable
clear nail polish - transparent 
acrylic paints
glitter/pigments/sand/soft stones like pyrite or malachite 
spray paint/lacquer in clear gloss/matte/satin