Embellished: Ornamental Enameling and Framing Techniques
This three-day workshop will focus on two aspects that will be of great interest for enamellists and jewelers looking to add additional skill sets to their repertoire; incorporating and applying superb embellishments such as tiny stones, pearls, and numerous other small objects to enameled surfaces and how to elevate those special enameled pieces with an exquisite framing or setting solution.
The course will start with introducing students to an array of options for how to embellish their enamel design. Demonstrations will include making settings suitable for safely connecting stones directly onto the enamel surface as well as fusing techniques to enrich and elevate the design. These will range from creating textured foils, small handmade metal applications, and more. We will examine historic and contemporary examples in order to understand a variety of design options and how to develop a design strategy for your individual pieces that is both informed and unique to you!
The second objective of the workshop will help students to develop the right frame, setting, or finding that will be needed to contain the beautifully crafted enamel component, whether it is an earring, pendant or brooch. Reverse settings are especially interesting as they allow for both a clean and/or ornate aesthetic. Barbara will explain two types of reverse settings by demonstrating how to cut simple and advanced tabbed settings, as well as how to properly solder prong settings onto metal frames. This class will also address the best placement for findings, strategies for properly fitting back plates, preparation of the tabs, notching prongs, and safe setting techniques. This is a hands-on workshop where technical demonstrations will alternate with work time at the bench, as students work to create stunning settings for their own artwork.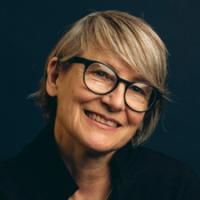 Barbara Seidenath was born and raised in Munich, Germany. She studied Jewelry making at the State School for Glass and Jewelry in Neugablonz, Germany where she received a Bachelor of Fine Arts degree in Goldsmithing, followed by a Masters of Fine Arts degree from the Academy of Fine Arts, Munich.
Seidenath has been on the teaching faculty of the Rhode Island School of Design, Providence, RI for nearly three decades. She also taught at the School of the Museum of Fine Arts in Boston and has been a faculty member at Massachusetts College of Art and Design. She has taught many seminars and workshops in the U.S. and abroad and has had her work shown in international solo and group exhibitions.
Seidenath's work has been seen at the American Craft Museum, New York City; Museum of Fine Arts, Boston, and the Design Museum of Munich, Germany. In 2002, Marjorie Simon wrote in Metalsmith Magazine "[Seidenath's work] is as delectable as the witch's house was to Hansel and Gretel. Putting it on would be like breaking the frozen surface and seeing the sun burst through again." Click here to read the full article: Bohemian Rhapsody - Importing Barbara Seidenath by Marjorie Simon [Metalsmith Magazine - Summer 2002]
There is a $95 materials fee for this workshop that is payable upon registration. The materials kit includes use of all MWX Thompson Enamel supply, copper sheet, large fine silver sheet, sterling silver round wire (16g), sterling silver square wire (2mm), fine silver bezels in two sizes (5), fine silver bezel serrated bezels in two sizes (5), copper serrated bezels (three sizes, fine silver tubing, cabochon stones (5), copper serrated bezel cup ovals, and other various miscellaneous materials needed to complete class project.
Students should bring
4mm, 5mm, and 6mm flat bottom stones - you will get 5 in your kit, but should bring more!

20g or 22g sterling silver sheet - 2" x 2"

any of their own enamel - part of the your kit fee does cover use of the Metalwerx supply

tweezers - your own clean tweezers

brushes - your own clean small brushes

palette knife

sketchbook, pen / pencil

reading glasses - if needed

closed toe shoes - required in Metalwerx studio

Sharpie fine point marker