Eastern Repoussé & Chasing
In this special live, online edition of Victoria's popular workshop, learn the secret of hammering metal into any shape or design. Whether high or low relief, traditional or contemporary styles, the technique of Eastern repoussé and chasing encompasses it all. This is the type of repousse used by the ancient Egyptian, Greek, and Scythian metalsmiths to achieve works of unsurpassed beauty, and the technique Victoria has employed for everything from stunning jewelry to huge sliding doors on a bespoke super yacht.
Eastern repoussé is an easily learnable system of exactly how, where, when, with which tool, and how hard to strike your metal to create the designs you want. It empowers you to achieve exquisite detail, unsurpassed depth, and multiple levels of relief. By working on a jewelry scale, you will gain a deep knowledge of the process that can be used on any scale whether wearable, functional, or sculptural. We will also touch on the possibilities of dimensional forms such as rings and bracelets as well as using this process with alternative materials, such as mokume gane and bi-metal.
This extended virtual workshop format is designed to help you achieve mastery of this technique. All class time will be devoted to learning and working in the Eastern repoussé process (not tool making). The demos are in 4K so you can see in magnified, lifelike detail everything that is happening. You are also encouraged to turn your device on your own bench so Victoria can coach you through the nuances of hammering to get the results in your own work that you desire.
Through her award winning artwork, publications, and tools, Victoria has generated an international revival of nearly lost, old world metalsmithing techniques. Her artwork ranges from art jewelry and hand illuminated artist books to bespoke architectural metal installations. It has been featured in numerous exhibits and publications, including Metalsmith, Jewelry Artist, the Lark 500 series, Chasing & Repoussé, and in her internationally acclaimed video and book series, Metal Techniques of Bronze Age Masters.
This class meets on Tuesday and Friday, for three weeks in a row.
For more information about virtual courses, visit our Virtual Course FAQ page. 
Please read the Materials & Tools tab!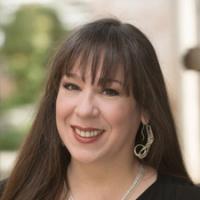 Victoria Lansford works across multiple artistic media and is best described as a "one woman, big city, symphony orchestra." Lansford has spent over 40 years working in the visual, literary, and performing arts to paint with fire, forge with words, and choreograph with color, line, and texture. Her award winning and genre busting art and fine craft combines centuries old techniques with cutting edge technology to create artwork that ranges in scale from wearable to hangable to architectural. Her painstakingly intricate art is made from precious metals, gemstones, ink, paint, skins, paper, hammers, punches, pliers, gravers, brushes, pencils, pens, or quills and takes many forms including art jewelry, craft objects, miniature paintings, calligraphic artist books, and metal screens. All of her designs revolve around the interplay of negative and positive space, the origins of the universe, and mythological archetypes to bring forth external displays of feminine power.
Lansford's art has has been widely exhibited in galleries, museums, and publications, including the Lark 500 book series, Metalsmith and Jewelry Artist magazines, Repousse and Chasing (Brynmorgen Press), and on Home and Garden Television. She has created a world-wide renaissance for many, old world, fine metal techniques through her sold out workshops, videos, books, articles, and apps.
Lansford's most recent large-scale commissions were for one of the world's largest, bespoke, superyachts: a floor to ceiling, etched copper screen and Eastern repousse double doors, both depicting oceanic scenes. She won a 2019 Independent Publishers Award for Best Design and a 2020 e-Lit award for her ground breaking, animated ebook Giving Voice (Spiral Publications) with introduction by best-selling author of the Griffin and Sabine trilogies Nick Bantock.
Lansford lives in Atlanta, GA with her husband Chris, son Skyler, and two Shelties Boudica and Elizabeth
The following supplies will be used for course demonstrations and objectives. A suggested item and/or vendor has been provided below for reference. Click the vendor name (in red) to be redirected to a page where you can find the item. The quantities needed for each item are listed first. If ordering, please be aware that some items may come in larger quantities than needed for this class. We recommend not opening an item's packaging until the day of the workshop. Student participation during or in-between class sessions is strongly encouraged but not required - observers are welcome.
Chasing materials (note that you should get enough green pitch to fill a 4" pitch bowl and add an additional fist sized blob on top - if you already have a bowl filled with another pitch, please put medium green pitch on top):
3"x3" x 24g sterling silver sheet (Rio Grande)
3"x4" x 24g copper sheet (Rio Grande)
medium green chaser's pitch (Rio Grande)
Eastern Repoussé tool set (Rio Grande)
pitch bowl with base - approx. 4" dia. (Rio Grande or Rio Grande)
canola or soy cooking spray - any brand (Amazon)
2-3 sheets x tracing paper - any brand (Amazon)
1 x transfer paper - any brand that transfers to metal (Amazon)
earplugs
Hand tools: 
Torch setup: