Earring Palooza: Endless Possibilities for Earring Construction!
Learn to make and use a single focal component to then create unlimited types of earring options! In this two-day virtual workshop, Taylor will take students through the steps she uses to design and fabricate a negatively-pierced and layered earring component, as well as her best-practices to use when hand-finishing jewelry pieces. Taylor will then show how to transform the pierced component into a stud or post earring and varying types of dangle earring options using wire. Multiple hoop construction methods will be covered.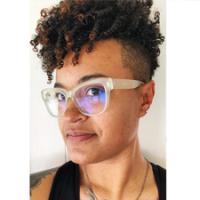 Taylor is a full-time metal smith and mother of 2 in St. Louis, MO. She began creating jewelry in 2003 as "The Rare Bird", transitioning from bead work, to wire work. She's now a self-taught metal smith, building pieces by hand from precious metals, preserving organic flora in sterling silver using lost wax casting techniques, and setting gemstones. She has been featured in Step by Step Wire Jewelry Magazine, Easy Wire Magazine, and ArtJewelry Magazine. 
Taylor is deeply inspired by flowers of all shapes and sizes - the emotions and feelings they convey in every leaf, curve of the stem, softness within the petals. She often incorporates their silhouettes or creates organic castings of actual plants to use in her work. Each piece is built one at a time, completely by hand, with its own story, originality, and attention to detail.
Taylor's creativity is fueled by one of her favorite Psalms - "May God establish the work of my hands." (Psalm 90:17)
Follow her processes on Instagram at www.Instagram.com/taylorsaleem.
The following supplies will be used for course demonstrations and objectives. A suggested item and/or vendor has been provided below for reference. Click the vendor name (in red) to be redirected to a page where you can find the item. The quantities needed for each item are listed first. If ordering, please be aware that some items may come in larger quantities than needed for this class. We recommend not opening an item's packaging until the day of the workshop. Student participation during or in-between class sessions is strongly encouraged but not required - observers are welcome.
Metal/raw materials: 
6"x1" x sterling silver sheet - 24g (Rio Grande)
36" x sterling silver round wire - 20g (Rio Grande)
1 x oxidation agent - such as liver of sulfur (Rio Grande)
bezel wire - optional 
cabochon stone - optional
bead or chain strands - optional
Hand tools:
Torch setup:
Other/miscellaneous items: 
hard work surface
eye protection
particulate mask
fan / open window or ventilation