Drawing Fundamentals for Jewelry and Objects
This demo-focused virtual course teaches drawing fundamentals for objects (which includes jewelry). Surfaces, light, shadow, line, medium choices like pen, ink, and pencil, the rules and guidelines of rendering objects, and more will be covered. The drawing systems of isometric, essential orthographic drawing for jewelers, and basic perspective are also introduced in this class. Template use will additionally be addressed. Drawing for expressing and communication will be a focus.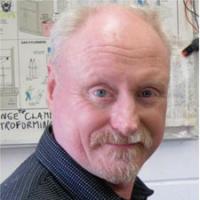 Charles Lewton-Brain studied and worked in Europe and North America. He lectures and publishes internationally on his research into rapid manipulation of metal and it's surface for artistic and manufacturing purposes. He invented Fold-Forming, an internationally reconized new approach to working sheet metals. Head of the Jewellery/Metals Program at the Alberta College of Art and Design, he writes, exhibits and works in his studio. He is President of the Canadian Crafts Federation. He thinks of himself as an artist who works primarily in the context of body ornament. He is a founding partner in the world's largest free educational web site for jewelers, ganoksin.com and has over 700 pages of his writing there.
The instructor has put together a list of materials and tools that will be covered in this virtual workshop, which can be found by clicking HERE. Student participation during or in-between class sessions is not required - observers are welcome.